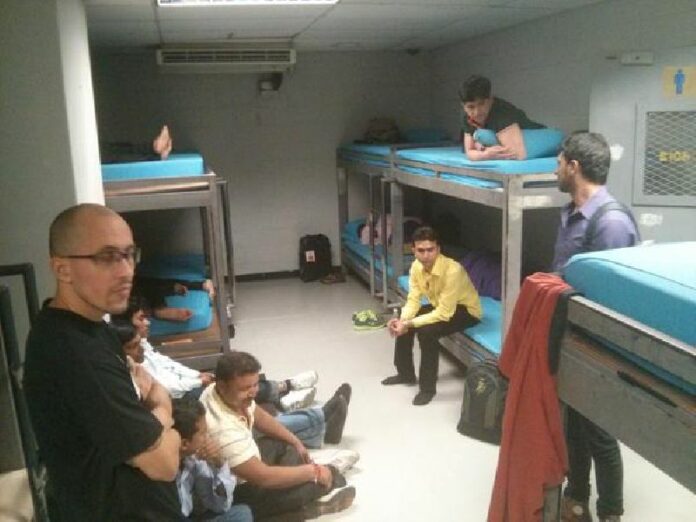 BANGKOK — A British academic was released from a crowded cell at Suvarnabhumi Airport early this morning, after being held five days on an immigration blacklist he was placed on six years ago after accusing an official of plagiarism.
The academic, Wyn Ellis, announced he was released from the jail where he had faced deportation, even though he has Thai citizenship, is married to a Thai and has lived in the kingdom for 30 years.
"So I am 'persona grata' again in [Thailand]," Ellis wrote on Twitter this morning. "Thanks to Thai govt for removing me from the Immig. Blacklist, and thanks also to all supporters."
Ellis, who works for the United Nations in Thailand, was blacklisted without his knowledge in 2009 after he complained to authorities that the then head of Thailand's National Innovation Agency plagiarized from a study Ellis had conducted.
Immigration authorities showed Ellis a letter sent by the former NIA head, Supachai Lorlowhakarn, in late 2009 describing Ellis as a "danger to Thai society" and accusing him of forgery, stealing government documents and plagiarism, Ellis said.
The NIA last week told the immigration department that it had revoked the letter from Supachai. But getting Ellis off the blacklist would take time.
"The NIA sent a letter to the immigration department on Sept. 4 stating that the British man should not be on the blacklist and he should not be detained," said an agency official who declined to be identified as he is not authorized to speak to the media. "It will take time to get the process done."
Ellis said he had been coming and going to Thailand without any problem, but had lost his Thai passport on a recent trip to Britain and Norway. When he returned to Thailand using his British passport on Thursday, he was detained.
"We will send him back to Oslo because that is where he was before," said police Major General Suwichpol Imjairat at the immigration bureau. "We has been blacklisted. We have to push him back."
Story: Reuters
To reach us about this article or another matter, please contact us by e-mail at: [email protected].