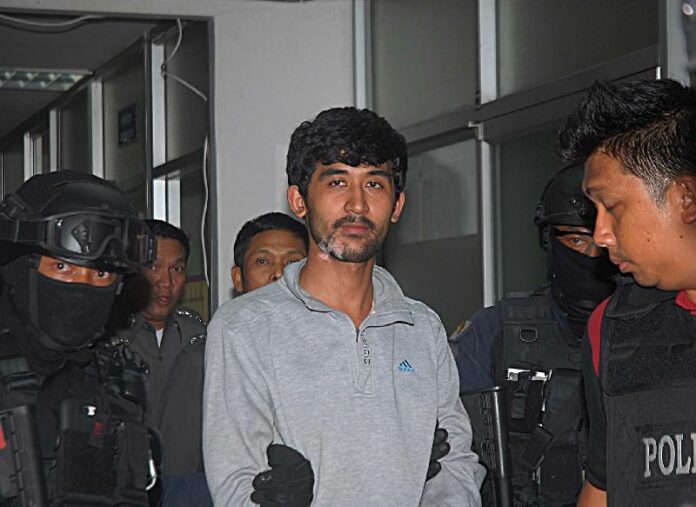 BANGKOK — A suspect arrested in connection to the bomb attack that killed 20 people last month has confessed to the charge against him, according to the Royal Thai Police spokesman.
Yusufu Mieraili, 26, admitted to the charge of illegal possession of explosives during questioning yesterday, Police Lt.Gen. Prawuth Thawornsiri said. Mieraili was taken into custody near Thai-Cambodian border on 1 Sept. and identified as one of the occupants of an apartment building Bangkok suburb where a large cache of bomb-making materials were found in a police raid.
"The suspect confessed that he is the person in the arrest warrant, and he confessed to the charge that he is accused of," Prawuth said. "However, police will continue to interrogate him."
Interactive: Who's Who in the Bangkok Bombing Investigation
Yusufu was transferred to police yesterday after being detained at an army camp for a week under special order of the ruling military junta, which allows soldiers to hold individuals up to seven days without court warrants.
It is unclear whether Yusufu's confession will be usable in the court, as he has yet to receive legal representation.
Police are scheduled to take Yusufu to "reenact" his alleged crime today at residences in Min Buri and Nong Chok districts where bomb materials were found, Hua Lamphong Railway Station which he is alleged to have visited just prior to the bombing and a skywalk near the Erawan Shrine, which was targeted by the 17 Aug. bomb attack which killed 20 and injured 150, mostly foreign tourists.
A source in the police department has said that Mieraili claims those behind the attack were following the orders of a 28-year-old man named "Izaan" who directed them in acquiring materials and carrying out the attack. Mieraili, according to the source, also claimed that Izaan left Thailand the day before the attack.
"However, we are not much convinced by Yusufu's testimony. We have to inspect whether this is true, because Izaan is still young and he seems to be from a wealthy background," the source said.
Yesterday police also issued two more arrest warrants in connection with the bomb attack, bringing the number of total to 11.
According to Prawuth, the warrants were issued yesterday for a man named Abdullah Abdulrahman and another unidentified man. Both were charged with possessing explosives. Both men's nationalities are unknown, Prawuth said.
Both men will be charged with illegal possession of explosives, and they were seen visiting the apartment where Miereilli stayed, the spokesman added.
Yusufu was holding a Chinese passport that identified him as a resident of Xinjiang province when he was arrested, though authorities have yet to confirm whether the travel document is genuine.
Prawuth also said yesterday that police are still trying to convince the Thai woman named among the arrest warrants to come back to Thailand. The woman, Wanna Suansan, is the only person identified as a Thai national in the 11 warrants and is charged with possession of war materials.
Wanna left the country on 1 July and has insisted on her innocence, but Prawuth said police have not been able to contact her for fourth day now. She is believed to be residing in Turkey with her husband, who is a Turkish national also named as one of the suspects.
"We may have to coordinate with Interpol now," Prawuth said. "We have to see if there's any extradition treaty between Thailand and Turkey."
Police officers were seen guarding Wanna's family home in Phang Nga province yesterday. Her family members refused to talk to the press, saying they were concerned that their interviews may be used against them in the ongoing legal cases.
But Ibrahem Komkham, chief of the village where Wanna's family is living, told reporters that her family said Wanna "firmly told them that she would come back to Thailand and testify to the police to prove her innocence."
"She said she is not related to the bombing, but right now she's talking with a certain high-ranking police officer to guarantee her safety and fairness from the police, in the event that she travels home to surrender herself," Ibrahem said.
However, Ibrahem added that Wanna did not mention when she's planning to return to Thailand.
Related stories:
Warrant Issued for 10th Bombing Suspect
First Suspect Charged in Erawan Shrine Bombing
Mounting Evidence Links Bombing to Turks, Uighurs
Warrants Out for Thai Woman, Foreign Man
Floundering Bomb Investigation Deepens Doubts About Competency
No Longer Whole, a Family Buries its Dead and Waits for Answers
Bangkok Bomber May Have Fled Thailand: Police
Man Dropped Bag into Water Night Before Sathorn Pier Blast
Seen Often on Sathorn 10, Suspect Thought to Use Fake Turkish Passport
Leaked Police Report Tracks Lead Suspect Before, After Bombing
1M Baht Bounty for Bangkok Bomb Suspect
Bangkok Shrine Bombing: Those Who Died
Despite Lack of Evidence, Thai Media Points Blame at Uighurs
Tourists Narrowly Escape Second Bangkok Bombing in 24 Hours
Bangkok Shrine Bombing: Police Hunt Backpack Man