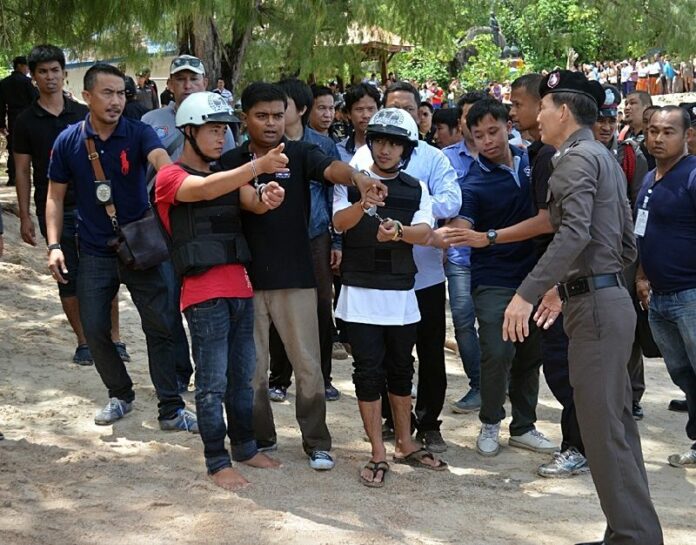 BANGKOK — A top forensic scientist testified to the court today that DNA traces found on a garden hoe reportedly used in the murder of two British backpackers last year did not match the two defendants.
In what could prove a turning point in the murder trial, Central Institute of Forensic Science chief Pornthip Rojanasunand told the court her agency's inspection of the garden hoe found DNA traces of two men, neither of whom were the two Burmese men accused of the murders.
"The new finding is crucial to the case because it proved that the defendants had nothing to do with the murder," Nakhon said, adding that lawyers had no idea what Pornthip was going to say when she took the stand today.
"We were afraid, too," he said.
The two Burmese, Zaw Lin and Wai Phyo, are accused of killing British tourists David Miller and Hannah Witheridge on the island of Tao in southern Thailand on 15 Sept., 2014. The pair denied the allegation.
Pornthip's findings contradict earlier testimony from police forensic officers who said their were no fingerprints or DNA traces on the garden hoe, only some blood splatters that belonged to Witheridge.
The garden hoe and several other items were retested by the forensic institute at the request of defense lawyers who felt that the institute is an impartial agency. It is run by the Ministry of Justice and not the Royal Thai Police.
Police investigators have hanged their case on DNA evidence they said implicated the Burmese pair, who were arrested after the investigation into the murders was widely panned as bungled and unprofessional. Police said they confessed; the two men said it was tortured out of them.
Nakhon said he's requested the prosecuting attorney instruct police to find whose DNA traces were found on the garden hoe.
"We have told them to do their duty," Nakhon said this afternoon.
However, police still insist that Zaw and Wai are implicated in the murder because their DNA matches with material recovered from Witheridge's body.
According to Nakhon, the defense team initially planned to have those DNA samples retested, but decided against it because the samples were "poorly kept" under police custody and their "unstable" condition may affect the retesting process.
Nakhon said three more defense witnesses, all forensic institute experts, are due to take the stand when the trial continues 22 Sept.
A verdict is expected in October.
Related stories:
Koh Tao Murders: Celebrity Scientist Takes Stand For Defense
To reach us about this article or another matter, please contact us by e-mail at: [email protected].