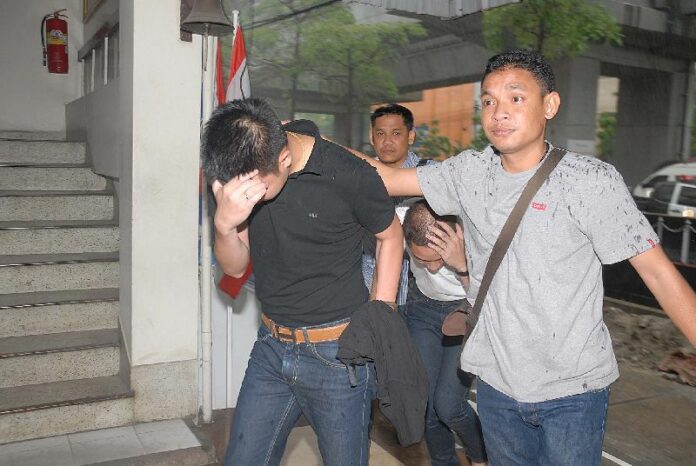 BANGKOK — A 27-year-old police officer is under arrest for allegedly assaulting a taxi driver with his friends and firing his handgun into the air seven times early this morning near a popular nightlife area in the capital.
Police Lance Cpl. Boonseth Wutthiwinyuchon and a friend were taken into custody this morning on suspicion of beating a taxi driver senseless because he mistakenly thought the man had spoken to him at about 2:30am near the entrance to Bangkok's Royal City Avenue.
Boonseth and a friend who reportedly joined him in the attack, Chutirat Thanormsingha, also 27, were brought to the Makkasan Police Station station this morning where they were taken into custody.
According to witnesses, 31-year-old year cab driver Thanin Pramnak and his colleagues stopped by a drink vendor near the nightlife zone's entrance to buy water after finishing their shifts.
Thanin reportedly teased his friend to buy water for him, but Boonseth, who was patronizing the same vendor, thought Thanin was talking to him, so pushed at his chest in anger and shouted "What the fuck is wrong with you?" at Thanin.
One of Thanin's friends, Surachai Foithong, said the victim politely told Boonseth he wasn't talking to him, but Boonseth nevertheless slapped Thanin in the face. Thanin fought back, and Boonseth called in four of his friends to help beat Thanin until he lost consciousness, according to Surachai.
Boonseth also reportedly took his handgun out, aimed it at Thanin, then discharged it into the air seven times. Boonseth and his friends then got into a van and drove away.
Thanin was taken to a hospital and admitted to intensive care. Medical workers described his condition as critical.
Police Lance Cpl. Boonseth Wutthiwinyuchon and associate Chutirat Thanormsingha, both 27, are questioned by police this morning at the Makkasan Police Station.
After being alerted to the incident, police tracked down and intercepted the van at around 4am. Two handguns and a number of rounds were found inside the vehicle, police told reporters. Boonseth and Chutirat were detained until being brought to Makkasan Police Station for formal questioning this morning.
Boonseth and Chutirat said both handguns were properly licensed but were unable to produce evidence of the registration at the time, said Police Lt. Cpt. Pornpreecha Chaiyakan of the Makkasan Police Station.
The pair have been charged with possession of firearms and ammunition without a permit and carrying firearms into a residential area without due case. Pornpreecha said an additional charge of physical assault would be filed against both men.
"Police will interrogate relatives and friends [of the victim] about the incident. We will also interrogate Thanin about how many perpetrators there were, exactly," Pornpreechai said. "We also have to wait for the results of the medical examination from doctors to see how severe his condition is."
Boonseth and Chutirat declined to speak to reporters today.
To reach us about this article or another matter, please contact us by e-mail at: [email protected].