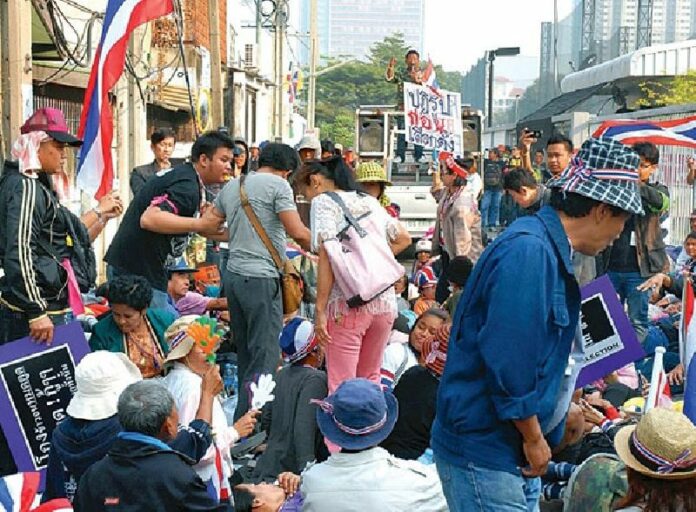 BANGKOK — After deliberating 18 months, prosecutors today announced they have taken up cases against eight activists who helped scuttle the 2014 election.
The eight activists, supporters of a group which campaigned against the civilian government prior to its ouster in May 2014, face trial for actively seeking to disrupt elections by leading demonstrators to besiege polling stations and block voters from casting their ballots.
The eight activists – Thinnakorn Plodpai, Chalongrat Nekamatcha, Kitcha Uinok, Thipporn Namdee, Mongkol Thongchai, Arom Sitthichoke, Chantima Chuchan and Nithat Chanthanakorn – were named in a court briefing and have been charged with obstructing an election, a criminal offense under 2007 election law.
They were members of the People's Committee Absolute Democracy With the King As Head of State. Under the slogan of "Reform Before Election," the group rejected then-Prime Minister Yingluck Shinawatra's call for early elections and sought to undermine the polls, insisting that an unelected "People's Council" should be installed to implement unspecified national reforms prior to holding any election.
Polling booths were stolen and dumped by PCAD protesters in Chumphon province on 26 Jan., 2014.
The charges stemmed from a 26 Jan., 2014, incident during which they sought to disrupt advance voting. PCAD demonstrators repeated the same campaign seven days later on voting day, forcing closed many polling stations in Bangkok and 14 southern provinces.
The Constitutional Court eventually nullified the entire election on the grounds that voting did not take place on the same day throughout the kingdom. As the government sought to organize a new election, the military intervened and staged a coup d'etat on 22 May, 2014.
Wanthongchai Chamnankit, a lawyer who represents the eight PCAD activists, said his clients denied any wrongdoing when they appeared before police in March 2014, and he has asked the prosecutors not to proceed with the court case.
Now that the prosecutors decided to take up the case, Wanthongchai said they "will contest the charges in accordance with justice system."
Wanthongchai also noted that the criminal court had previously acquitted PCAD protesters of obstructing an election for their rally in front of a voting station in Bangkok's Din Daeng district on 2 Feb.
"The court sees it as a peaceful, unarmed assembly," Wanthongchai said.
In that verdict, handed down in July this year, the court ruled that the protesters' actions did not amount to obstructing the election because they did not barricade the gate to the polling booth with any object.
To reach us about this article or another matter, please contact us by e-mail at: [email protected].