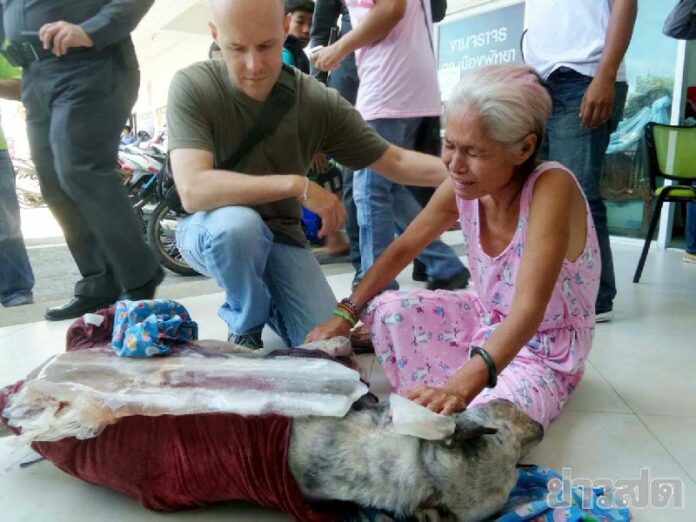 PATTAYA — There may be few dull days for cops in Pattaya's coastal enclave of sunshine and vice, but some eyebrows were likely raised when a woman walked into the station yesterday with the frostbitten remains of a beloved pet.
Following the arrest of a Russian man on an unrelated issue, Duangporn Srabua, 58, arrived with the body of Rod Thang (Tank), the pitbull she kept frozen three months in the name of justice, to accuse him of the crime.
Animal advocates from the Pattaya Animal Coalition assisted Duangporn in bringing the American Pit Bull Terrier's body to the station as evidence against Alexsandr Ponomarev, the 30-year-old Russian accused of killing the dog July 9 on Jomtien Beach.
Alexsandr Ponomarev, 30 of Russia, sits yesterday in a police station in Pattaya. He's been charged with animal abuse for allegedly stabbing a pitbull to death three months ago.
Supaporn Kobaishi, a 41-year-old staff member of the group, said they had notified immigration officers to be on the lookout for Ponomarev after he left Thailand after Rod Thang was killed July 9.
She said he returned and got picked up by police for carrying an expired passport. Police had zero interest in bringing him to justice for Rod Thang's death, she added, until a reporter inquired about the case.
Ponomarev has now admitted to stabbing Rod Thang using the two knives he was carrying that day, according to police Lt. Col. Somkid Sittisatra. He told police the dog bit him first, so he was angry.
The dog was killed outside Duangporn's restaurant in the Jomtien Beach area. At the time, it was reported that an unidentified foreigner had assaulted him in the street.
Police said Ponomarev is likely to be charged under Thailand's animal abuse law, which is punishable by up to two years in jail and a 40,000-baht fine.
Now that Rod Thung has thawed out, Duangporn said she would have him stuffed so that he could be used as evidence, should there be a trial.
To reach us about this article or another matter, please contact us by e-mail at: [email protected].