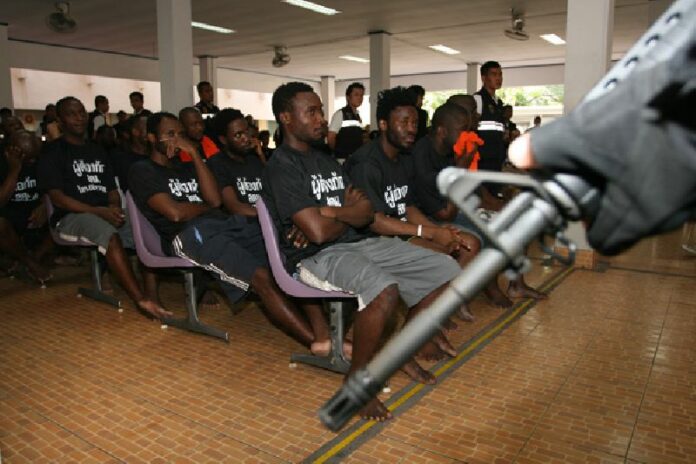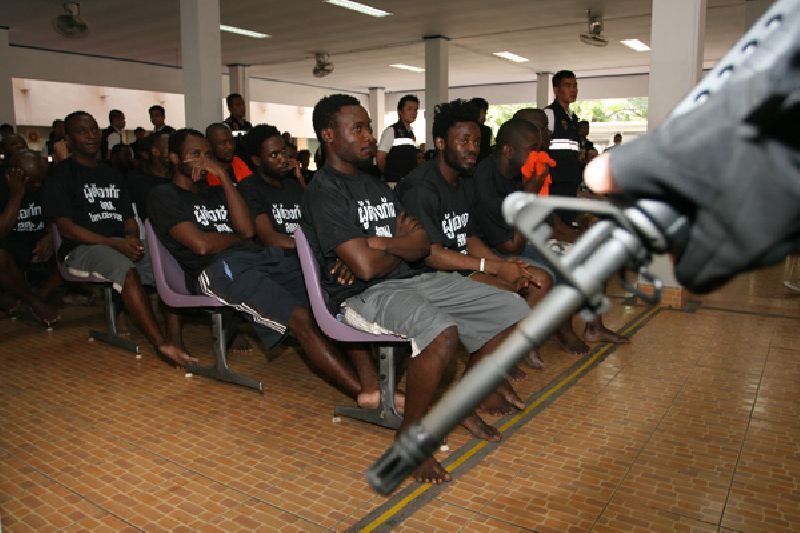 BANGKOK — Harsher punishments introduced last year for foreigners who overstay their visas might be strengthened by the prime minister's pen as immigration police announced more than 9,000 people were arrested during the past week.
Aiming to reduce illegal immigration by 80 percent, immigration officials have asked Gen. Prayuth Chan-ocha to use his special power granted after the 2014 coup to reaffirm rules introduced last year banning foreigners from Thailand for one to 10 years, depending on the length of overstay.
"The current punishment for overstaying is a 500-baht fine, the maximum is a 20,000-baht fine and sending them back to their countries," said Immigration chief, police Lt. Gen. Nathathorn Prousoontorn. "So the next day, they can just travel back here as we don't have a blacklist system like other countries."
The rules have already won approval from the Interior Minister and have been submitted to Prayuth to consider.
Authorities on Sunday also revealed they arrested 9,265 people suspected of being in the country illegally during a seven-day operation which ended Sunday. Police said they want to reduce the estimated 800,000 people in Thailand illegally by 80 percent.
Almost all – nearly 98 percent – of those arrested face charges under the 1979 Immigration Act, police said, with 18 others facing other criminal charges and 209 accused of other offenses.
Immigration, a matter of cyclical enforcement and periodic crackdowns, returned to urgency after the bombing of a popular tourist attraction in August killed 20 people. Most of the suspects identified in the ensuing investigation appeared to have entered the country illegally, possibly by paying cash bribes at border checkpoints.
In 2013, 70,175 foreigners were arrested for overstaying their visas.
The penalties announced Sunday are identical to regulations announced by the immigration bureau last year that have been in effect since Aug. 17, 2014.
Foreign nationals who remain in the country more than 90 days after their visa expires are to be banned for one year. Those who overstay for one year, three years or five years are forbidden from re-entering the country for three years, five years and 10 years respectively. If they don't turn themselves in and are instead caught by police, those who have overstayed less than a year would be blacklisted for five years while those with over a year face a 10-year ban.
Police also announced they arrested six foreigners from four cases including two Russian fraud convicts sought by Interpol, two Cameroonians convicted of forging documents, a Korean man sought on a Korean warrant relating to onling gambling and a Burmese man convicted of using a faking the immigration stamp.