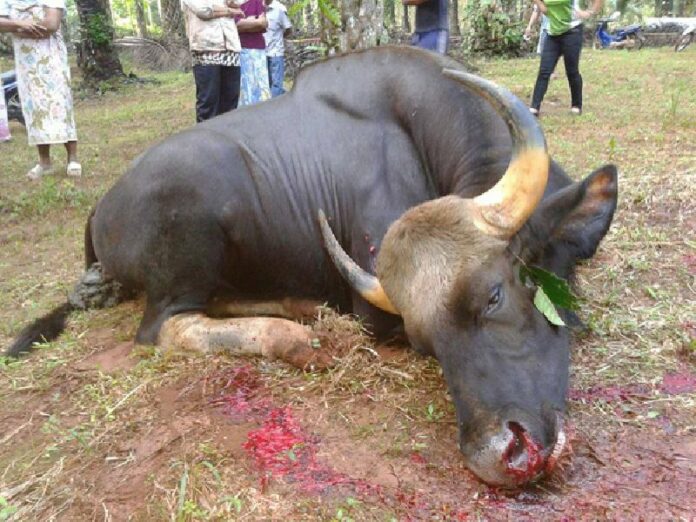 KRABI — A 6-year-old wild gaur named Khai Dam was shot dead at a palm oil plantation during a crackdown on land encroachment yesterday.
Forest guards carried the 800-kilogram body of the animal, a protected species of which few remain, to an office in a nearby wildlife sanctuary after it was found dead Wednesday morning at a palm oil plantation in the southern province of Krabi. Nine gunshot wounds were found in its legs and body, with severe trauma injuries to his neck.
Head of the Khlong Phraya Wildlife Sanctuary, Meechai Aiyasoon, said he already had some clue as to the identity of the gunman, and said he would be tracked down and charged with illegally killing the protected animal. Gaurs are protected under the 1992 Wild Animal Reservation and Protection Act.
Khai Dam first traveled across the border from Surat Thani province to Krabi to feed about a year ago, a forest protection official said. A couple of weeks ago he was found feeding around palm oil and rubber plantations in Krabi's Plai Phraya district, where his friendly personality had won the adoration of local villagers.
Prior to his death, forest guards at the Khlong Phraya Wildlife Sanctuary went to tear down property encroaching in Surat Thani's Phrasaeng district, which shares a boundary in the same protected area. Meechai said he had arranged a team to monitor Khai Dam and told locals know not to annoy him as it could cause stress to the animal.
Few of the once-prolific and now endangered, gentle animals remain in Thailand. In 2014, dozens of gaurs turned up dead in Kui Buri National Park in Prachuap Khiri Khan province.