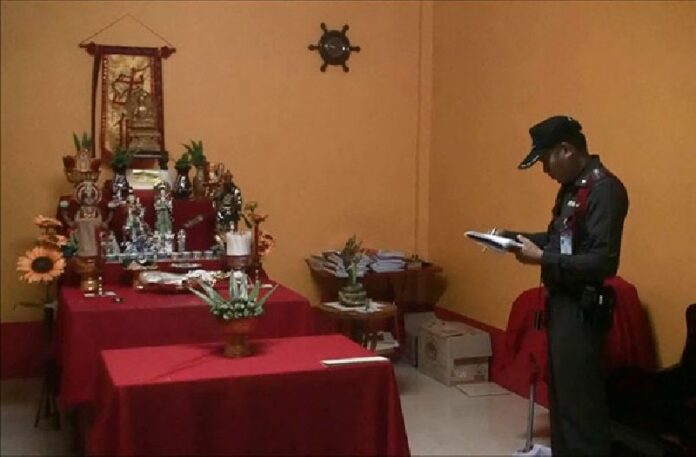 NAKHON SI THAMMARAT — Chaiyuth Phetsringen had an uncanny ability to divine winning numbers, according to locals in the southern province of Nakhon Si Thammarat. So good was the 41-year-old shaman at foretelling winning digits, it might have killed him.
Chaiyuth – called "Guan Yu" for the dead Chinese general believed to inhabit his body – died in a hail of bullets as he was walking out from the shrine where he held court. Police arrived to find him dead on the scene with six apparent gunshot wounds witnesses said were fired from a black car 10 meters from the shrine.
Two people won the street lottery jackpot with Chaiyuth's numbers last month, according to police Lt. Col. Prapan Decharath, and locals believe those running the numbers racket were angry at having to make big payouts.
Police last night examine the body of Chaiyuth Phetsringen, who was slain outside his shrine.
Reached by phone today, police Gen. Somkid Damklieng said adultery and drugs were also possible factors in Chaiyuth's murder, not just his acumen. He'd just checked security cameras on the road and said it looked like two people might have opened fire.
Chaiyuth's brother, Chamnan Phetsringen, 44, told police the deceased was a three-time champion of the Rajadamnern Stadium's Muay Thai competition in Southern Thailand under the name "Samliam Singhamanee."
It was only a year ago he built his shrine after quitting boxing, Chamnan said.