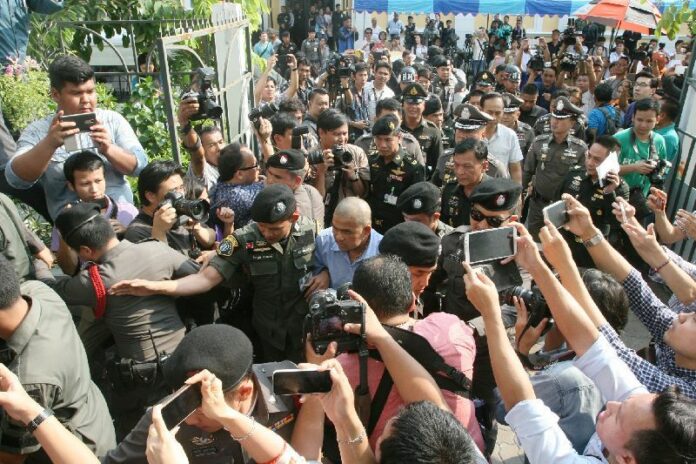 By Pravit Rojanaphruk
Senior Staff Writer
BANGKOK — Rights watchdogs are calling for greater transparency in the handling and detention of suspects accused of insulting the monarchy after two died in custody within a two-week period.
Representatives from rights groups said the military must grant access to suspects held in its custody to relatives and independent monitoring bodies such as the International Committee of the Red Cross, as well as provide more transparent information about the circumstances under which they die.
The call came after a renowned fortune teller accused of lese majeste (defaming the monarchy) became the second person to die while held in a temporary prison created at the 11th Military Circle in Bangkok.
Suriyan Sujaritpalawong, aka Mor Yong, was said yesterday to have died of respiratory and circulation failure as a result of a blood infection. Commonly known as sepsis, the U.S. Mayo Clinic describes such an infection as a "life-threatening complication" that can be fatal without treatment by antibiotics.
An autopsy performed by the Institute of Forensic Medicine under the Police General Hospital said Suriyan died of sepsis. His death came 14 days after police Maj. Prakrom Warunprapa was said by the Corrections Department to have hanged himself with his shirt in a cell at the same facility. Both men were quickly cremated.
National Human Rights Commissioner-elect Angkhana Neelapaijit, speaking in a personal capacity as a rights advocate, said both the rights commission and Red Cross have been denied access to the temporary prison.
Angkhana said unless there's greater transparency, doubts will persist. In the case of Suriyan, the public ought to know about the conditions of military detention and be confident prompt and adequate medical care was provided. She said questions about the military's ad hoc prison were unlikely to go away.
"Even if the government and the [junta] insists on its necessity, certain standards must be maintained, such as the cell must be well ventilated, family members must have visitation rights and the detainee must be able to exercise," Angkhana said.
Representatives from the Department of Corrections and military have said there was no foul play in the deaths of either men, and that they received urgent medical attention for their respective situations.
Four calls placed to junta spokesman Winthai Suvaree for comment went unanswered today.
Angkhana said the National Human Rights Commission should be allowed to visit the site without prior notification; something she said was not happening.
Cristian Rivier of the Red Cross's Bangkok office declined to answer whether his organization had requested or been denied access to the facility. He said he could not divulge details because the Red Cross is working with the government "in confidence" but was "following the matter."
Poonsuk Poonsukcharoen of Thai Lawyers for Human Rights said autopsy reports should be more detailed and include photographs of the body so the public can be assured that there was no foul play.
"We hope all groups in society will jointly apply scrutiny, and we still want to see suspects being detained [outside military custody]," said Poonsuk, whose group has publicly made the same demand in the past.
Poonsuk said five human rights organizations including her organization have met and will soon issue a joint statement relating to the detention of suspects.. As for Thai Lawyers for Human Rights, she said the group wants to see greater information, access and transparency about the conditions of detention.
Yaowalak Anuphan, head of the lawyers group, said experience in the Deep South shows that proper and detailed autopsies can reveal possible torture or assault under detention.
"Traces of bruises, brain swelling, torn lungs and broken bones will show," said Yaowalak, adding that such autopsies should be mandatory, as they dispel doubts and constitute justice, not just for the deceased and their families but for society as well.