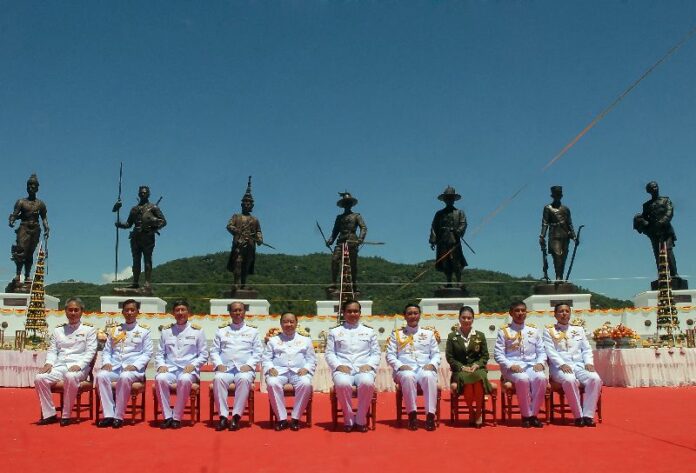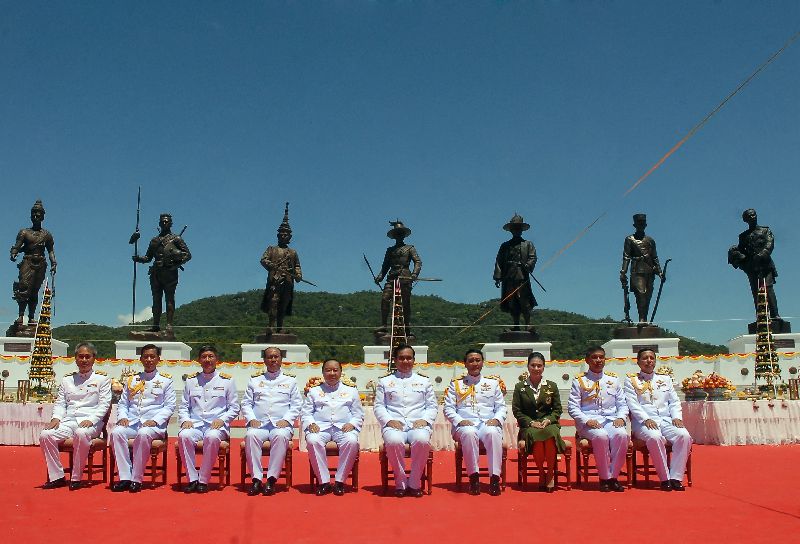 BANGKOK — Former army chief Udomdet Sitabutr today conceded that a costly government park project he oversaw this year was rife with corruption as alleged in media reports.
Gen. Udomdet said an individual hired by the army for the construction of Rajabhakti Park pocketed 10 percent "commissions" without estimating how much was skimmed from the 1 billion baht project or identifying the culpable party. He said such arrangements were common.
"This allegation is true in some parts but not all, and I think every sector has this kind of thing," the recently retired army chief said. "Once we found out about it, we took action."
Rajabhakti Park in Prachuap Khiri Khan province features seven giant statues of prominent kings from Thai history and was built under Udomdet's oversight from November 2014 to August 2015.
Reports about corruption in the project appeared in local media in recent weeks about an investigation into individuals accused of abusing ties to the Royal Family.
---
Army Colonel Accused of Insulting Monarchy as 'Royal Impostor'
---
The reports describe a system under which the army paid a middleman to make arrangements instead of the firms responsible for doing the work, such as the foundries which cast the statues.
The middleman – identified in media accounts only as an amulet businessman – took a 10 percent cut for each king statue, one of which was said to cost 44 million baht. Due to the likelihood of legal action under Thai defamation law, Khaosod English is withholding the man's identity.
Gen. Udomdet admitted as much to reporters today, but said the damage has already been fixed because the middleman returned his commissions "as a donation."
"But eventually everything ends well … the person donated part of the money voluntarily, and gave the rest to the foundries to complete the statues," Udomdet said. "Everything ended in an orderly, clean and pure manner, in every step."
Pressed by reporters, Udomdet said he's uncertain the money was returned to the army.
"I don't really know the details. But I can certainly explain all of it. It's about work by different committees. The financial work was handled by the treasury, and the head of army treasury department can certainly explain it."
The alleged payments to a middleman are among numerous accusations of corruption surrounding the project, which opened to great fanfare in August. According to a police investigator, unusually high prices were paid for land, equipment and the statues. One statue alone cost 44 million baht, said the anonymous source, while access to VIP seats at the park's opening ceremony was sold for 1 million baht.
Rajabhakti Park in Prachuap Kiri Khan
Despite those suspected irregularities, Gen. Udomdet urged the public not to question the project, and expressed suspicion as to why the issue was being raised.
"I'd like to ask the people who don't understand this to understand it. Some of you may have good intentions, but please stop, because this is about the people's faith." Udomdet told reporters. "I am not worried about this, because I can explain everything, but it's strange that some time had passed without any issue. Now that there's another event happening, this issue is connected with that."
Udomdet's comments came amid a broadening investigation into what's described as a clique of individuals who exploited ties to the monarchy for personal benefit. Four people have been arrested so far in connection with the alleged crime, two of which have died in military custody.
The martial court yesterday issued an arrest warrant for a fifth suspect, an army colonel accused of embezzling funds from the Rajabhakti project. Col. Kachachat Boondee is believed to have fled to Myanmar since Oct. 31, but his current whereabouts are unknown.
Defense Minister Pravit Wongsuwan declined to comment on the allegations and advised the media to talk to Udomdet instead.
"Gen. Udomdet, who was in charge of the matter, will explain it," Gen. Pravit said. "I'm not involved in this matter."
Related stories:
Accused 'Royal Imposter' Too Sick to Appear in Court, Police Say
Further Autopsy of Lese Majeste Inmate Unnecessary, Minister Says
'Royal Imposters' Suspect Involved in Past Lese Majeste Crackdowns
Famous Astrologer Among Accused 'Royal Imposters'
To reach us about this article or another matter, please contact us by e-mail at: [email protected].
Follow Khaosod English on
and
Twitter
for news, politics and more from Thailand.