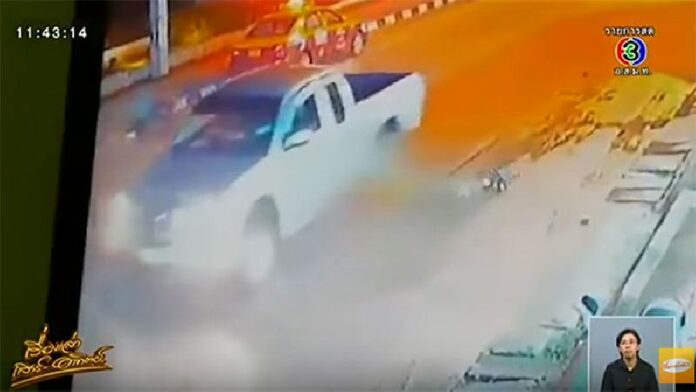 SAMUI — A truck driver seen running over a foreign tourist and driving away from the scene surrendered to police Sunday on Koh Samui.
Sanong Songkul, 45, confessed to hitting the Israeli man with his pick-up truck on Saturday night, but defended his decision not to stop to help the wounded man because he was afraid crowds of onlookers might attack him, a police officer at a local station said.
The moment Sanong hit the tourist as he walking on the ring road was captured by a security camera and later posted on social media.
In the low-quality video, the pick-up truck appears to knock down the Israeli man and then drive over his head before speeding away from the scene. The victim, who was identified as 43-year-old Amir Cohen, was taken to a hospital
Sanong's action drew condemnation from many on the social media. "They have to arrest this bastard," wrote user Pongpinyo Tammakoon. "The authorities must get serious about traffic problems. Are they going to let Thailand become Deathland, full of accidents like this?"
Lt. Cpt. Boonnam Srithanarat of Bo Put Police Station said Sanong surrendered himself to police on Sunday morning.
Sanong claimed that he had already called a police officer he personally knew to tell him he would turn himself in the next day, so he believed his action didn't count as a hit-and-run, Boonnam said.
Nevertheless police charged Sanong with reckless driving resulting in injury and hit and run. He was released from custody on the same day because "he has no intention to flee prosecution, and he has a clear residence on Ko Samui," Boonnam told Khaosod English.
"Whether it's a hit and run, Mr. Sanong has to prove that to the court," the officer said.
He added that Cohen is recovering at the hospital and has received aid from the Israeli Embassy.