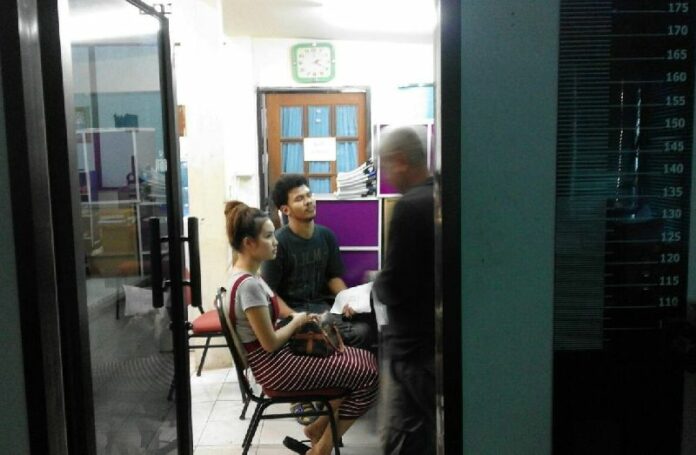 KRABI — Police officers in southern Thailand have charged two people with libel and other offenses for criticizing the police force online.
Sukanya Laiban, 23, and Peerasuth Woharn, 22, now face jail time for their online complaints; the former ranting against a traffic cop who told her to move her car; the latter for writing that police ignored his calls about a violent crime.
"I want this to be a moral lesson to warn people who post stuff on social media," Col. Sompong Thip-aphakul, head of the Krabi Police Station, told Khaosod English today. "We are not being vengeful. We are just doing our duty. Some people just don't understand our work, and I guess we cannot make everyone understand our work."
---
Police Weigh Libel for Woman's Anti-Cop Rant
---
Both Sukanya and Peerasuth were charged during the weekend with defamation, insulting law enforcement officials on duty and violating the Computer Crime Act, a controversial law that criminalizes a wide range of actions on the internet, such as making statements deemed "false" or "defamatory" to others.
The pair surrendered to police Sunday and were later released on bail, Sompong said.
'False' information
Sompong said the charges against Sukanya and Peerasuth are justified because they published false information about police officers working at his station via their social media accounts.
The first incident relates to a video posted Nov. 12 by Sukanya in which she vented anger and lashed out at a cop who told her not to park in a restricted area. The video went beyond complaining about the officer, and in it Sukanya accused him of planting drug on innocent motorists, Sompong said.
For Peerasuth, his alleged crime was writing on Facebook that he encountered a bloodied woman on the night of Nov. 9 who said she had been mugged and stabbed.
Peerasuth said he called officers at Krabi Police Station about the incident, but no one picked up the phone, so he took the woman to the hospital on his own. Even after the woman was admitted at the hospital, no officer showed up to assist her, he wrote.
"So, these are police that serve the people? If the victim was your own relative, what would you think? This kind of thing happens almost every day, but don't you dickheads think about fixing it at all?" he wrote in a post set to be publically viewable.
Sompong said Peerasuth's account of events was false, because the man in fact never alerted his station to the incident.
"He said he was angry that he called us and we didn't respond to the scene. But actually, he was calling 191. He never called us. And maybe the 191 people didn't pick up the phone, that's why he got angry," Sompong said.
His officers did eventually hear about the robbery, he added, from local rescue workers and proceeded to investigate it. The mugger was arrested on the following day, Sompong said. The woman survived.
Reached for comment, Peerasuth confirmed he met with police officers yesterday, but declined to talk about other details in the case, citing the criminal case against him.
Legal provisions for defamation and the Computer Crime Act are often criticized as overly vague and harsh.
If convicted on all three counts, Peerasuth and Sukanya face up to eight years in jail for their comments.
Sompong said he wanted to send a message.
"People can't just say false things" he said today. "This doesn't only apply to police. If you do the same thing to normal civilians, you'd be guilty too. People should be careful with what they say."
Related news:
Redshirt Behind Prayuth 'Cash Transfer' Rumor Linked to Anti-Monarchy Cell
Migrant Rights Activist Indicted in Thailand for Defamation

To reach us about this article or another matter, please contact us by e-mail at: [email protected].
Follow Khaosod English on
and
Twitter
for news, politics and more from Thailand.