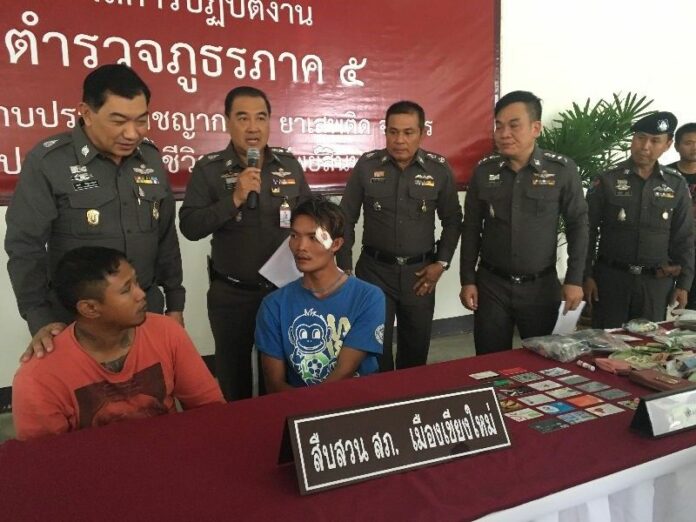 CHIANG MAI — A tattooed Dracula and three accomplices from Bangkok were arrested Wednesday night for pickpocketing revelers during Chiang Mai's Yi Peng festival after they reportedly chose the wrong target.
Police today announced the suspected pickpockets were arrested Wednesday night after a man who identified himself as an official from the U.S. Consulate stepped forward with a complaint he'd been robbed during Loy Krathong near the Nawarat Bridge.
Police traveled to the scene and found two men walking along the Ping River and two women standing nearby. The four suspects were stopped and frisked, at which point officers found 35 items including credit cards, cash and cellphones, according to Chiang Mai police chief Maj. Gen. Pacha Rattanapan.
---
Tourists Warned as Pickpockets Get to Work on Loy Krathong
---
Three of the four alleged pickpockets were identified: Suradetch Mokpha, Teppakorn Champasi, Preeyaporn Sai-ngam. Police withheld the name of the fourth suspect because she is a minor.
The gang's alleged ringleader, Suradetch, said he and his friends would steal from people as they floated their krathongs in the river, after which they would pretend they to be collecting money from other krathongs.
His face and body are covered with goth-looking tattoos he said he had made in prison to look scary and discourage others from bullying him.
He said he turned to theft because he couldn't find a job after being released from jail, so he persuaded the other three to join his pickpocket team. They traveled by train to Chiang Mai, he said, because they heard the annual festival attracted a large number of tourists.
Related news
Tourists Warned as Pickpockets Get to Work on Loy Krathong
To reach us about this article or another matter, please contact us by e-mail at: [email protected].