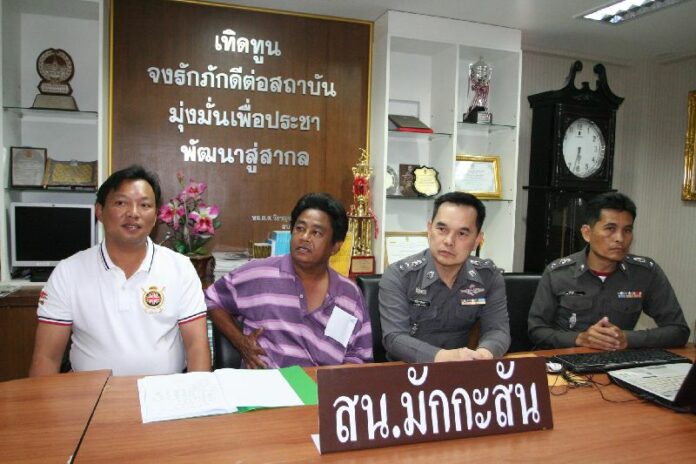 By Teeranai Charuvastra
Staff Reporter
BANGKOK — A taxi driver seen in a viral video slashing a motorcyclist with a knife surrendered himself to police today and said he only did it because the man kicked him.
Saneh Nam-ngoen, 53, admitted to stabbing Opas Kraisutha during an argument on Rama IX Road on Wednesday, but insisted it was Opas who started the fight by kicking him, for which he plans to file an assault complaint against the stabbed motorcyclist.
The altercation, captured on a bystander's camera, has been widely shared by social media users after it was posted online Thursday.
Opas is still recovering at a hospital from stab wounds in his arm and back, Col. Sorawit Petchkam of the Makkasan Police Station said.
Sorawit said Saneh surrendered himself today after police tracked him down from his license plate number. The taxi driver has been charged with physical assault causing grievous bodily harm and carrying a weapon in a residential area.
Saneh said today that he was driving Wednesday along Rama IX Road when Opas tried to cut into his lane, which he blocked. Opas later managed to get into the lane and flashed him the middle-finger in anger, according to Saneh.
The taxi driver said both men then parked their vehicles for a chat.
At that point Opas kicked him, so Saneh said he used a machete he carried under his seat to stab Opas before driving away. Saneh said he tossed the weapon into the river soon afterward.
To reach us about this article or another matter, please contact us by e-mail at: [email protected].