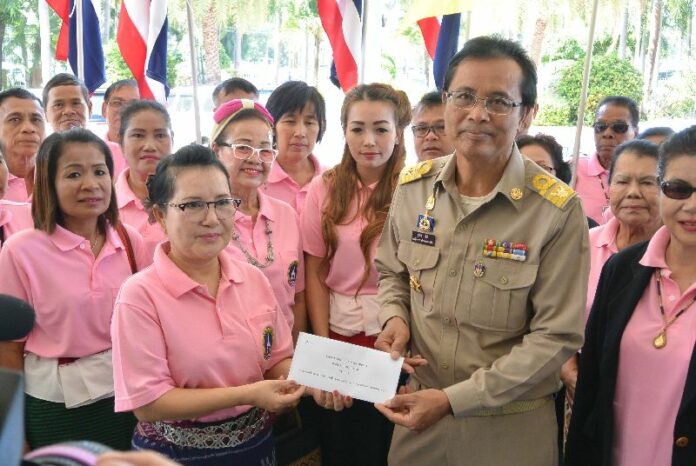 BANGKOK — From Chiang Mai to Songkhla, an organized campaign turned out hardline supporters of the monarchy to denounce U.S. Ambassador Glyn Davies for his comments about Thailand's harsh treatment of those found guilty of defaming the royal family.
Protests were reported in provinces throughout the realm by local chapters of an organization called "We Love the King" as the ambassador was speaking to the media in Bangkok about the possibility of Thailand joining a regional trade agreement.
Photographs posted to welovethaiking.com showed groups ranging from a few people to dozens wearing identical pink T-shirts to gather in more than a dozen provinces including Chiang Mai, Nakhon Ratchasima, Buriram, Si Saket, Nakhon Si Thammarat, Phuket, Krabi and more.
---
Ultra Royalists Call for Removal of U.S. Ambassador
---
The protesters said they were incensed by Davies' Nov. 25 comments at the Foreign Correspondent Club in Bangkok, where he raised concern over lengthy prison terms handed down to civilians found guilty of insulting the monarchy by military tribunals.
Holding similar banners, the demonstrators in each province submitted letters to officials demanding investigation be pursued against Davies for what they perceived as a libelous statement toward the monarchy and unwanted interference in domestic politics.
Reading from a statement, the protesters argued the United States has similar laws protecting its president from criticism, citing a 2010 case in which an American citizen was sentenced to nearly three years in jail as such an example. The case cited involved a Kentucky man named Johnny Logan Spencer, who was convicted of threatening the president for a poem he wrote about his assassination.
Patchara Meephu, a coordinator of Nakhon Ratchasima's We Love the King organization, said the protest was meant to stress Thailand's "dignity and sovereignty."
Asked whether she or others sought permission from the junta, which has banned all political gatherings, Patachara said there was no need.
"We didn't ask for any permission, because this is not a protest. We only went there to read our statement," she said. "We just want to defend the monarchy."
Protesters gather at city hall in Phuket province Monday to protest U.S. Ambassador Glyn Davies' recent comments about harsh punishment of those found guilty of defaming the monarchy.
Since the junta seized power from the elected government in May 2014, it has imposed a blanket ban on all political activities and gatherings, though the junta makes occasional exception for protests that support its regime.
Patchara insisted that neither her organization nor today's demonstration received any support from the state, but said they "received good cooperation" from the Governor's Office and local police whom they had contacted in advance.
It was not immediately clear who is behind the group, said to be a private organization, but the We Love the King association was founded in 2012 by Gen. Jirasak Wattanawong, an army general and former deputy director of the Crown Property Bureau. At the time he described it as a means to promote the king's teachings and instill loyalty for the monarchy among the citizens.
King Bhumibol, who is due to turn 88 on Saturday, is widely revered as a demi-god in Thailand. His most fervent supporters also believe there's an ongoing plot by the Redshirt movement to overthrow him and the monarchy. Redshirt leaders have repeatedly denied the allegation.
To reach us about this article or another matter, please contact us by e-mail at: [email protected].
Follow Khaosod English on
and
Twitter
for news, politics and more from Thailand.