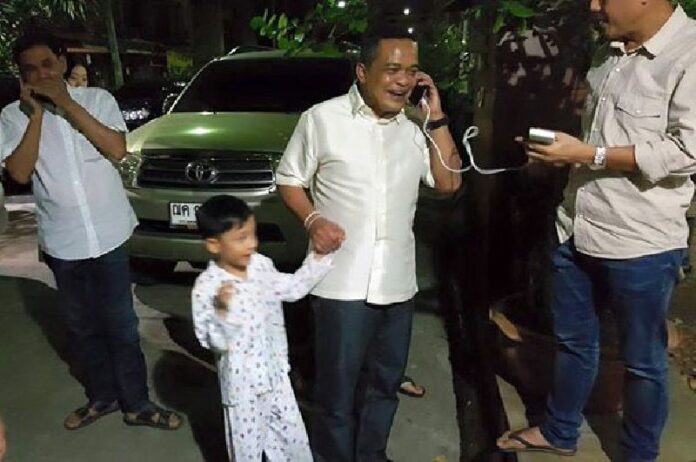 BANGKOK — The two Redshirt leaders said last night they were released from military custody hours after being detained while en route to a "corruption inspection tour."
Jatuporn Prompan and Nattawut Saikua were released hours after soldiers detained them in southwest of Bangkok on Monday morning as they spoke with reporters about their plan to travel to the Rajabhakti Historical Park in Prachuap Khiri Khan province, which has become mired in allegations of graft.
"I'm home safe. I thank all the brothers and sisters for your caring thoughts," Jatuporn wrote Monday night on Facebook.
Nattawut also confirmed via Facebook he was home, but suggested soldiers continued to monitor him there. "Thank you for your concerns for you. I arrived home at 9:40pm. I'm safe. But there were military vehicles and pickup trucks waiting in front of my home as soon as I arrived. I expect they would be here all night. So, am I really free or not?"
Jatuporn and Nattawut are chairman and deputy leader of the Redshirt umbrella organization, the United Front of Democracy Against Dictatorship, or UDD, respectively. Having vowed earlier to tour the Rajabhakti Historical Park in Prachuap Khiri Khan province to bring attention to alleged graft in the army-sponsored project, they were intercepted and arrested in Samut Sakhon province while on their way to the site.
The junta, which seized power from the Redshirt-backed government last May, said it was necessary to detain the two activists to stamp out any political unrest.
"If the NCPO decides that something will cause unrest, we have to stop it," said Gen. Anupong Paochinda, a member of the junta, the National Council for Peace and Order.
In the past month the military government has been dogged by accusations of corruption at Rajabhakti Park, a massive royal monument complex constructed by the army from November 2014 to August 2015. Much of the budget came from donations, the rest being supplied by the government. Full spreadsheets of income and expenditure of the project were never released to the public.
Former Army Chief Speaks Out
Gen. Udomdej Sitabutr, the former army chief who oversaw the park's construction, told reporters today he's confident an investigation by the Ministry of Defense will find the project was free of graft.
Udomdej had been little heard from since he publicly admitted last month the project was rife with corruption.
"I am still confident in my innocence, especially the goal of the project, it was to give something for the people to rely on, spiritually, and to give a national treasure to the nation, and to reflect on my debt to this country," Udomdej said at Government House this morning.
Udomdej has been in hot water since his Nov. 10 comments confirming some of the media reports alleging financial irregularities were true.
"This allegation is true in some parts but not all, and I think every sector has this kind of thing," the now-retired army chief said at the time. "Once we found out about it, we took action."
Udomdej also said the money was already returned "as donation," and suggested that it was a common practice in many state sectors.
Despite his frank admission of the shady business model, no criminal action has been taken against Udomdej so far, though the Ministry of Defense has announced an internal investigation into the park construction. The investigation panel was set up by Gen. Preecha Chan-ocha, brother of junta chairman Prayuth Chan-ocha.
A previous internal investigation set up by the Royal Thai Army, which lasted for a week, found nothing wrong in the historical park, much of the funding of which came from donations to a foundation created by the army.