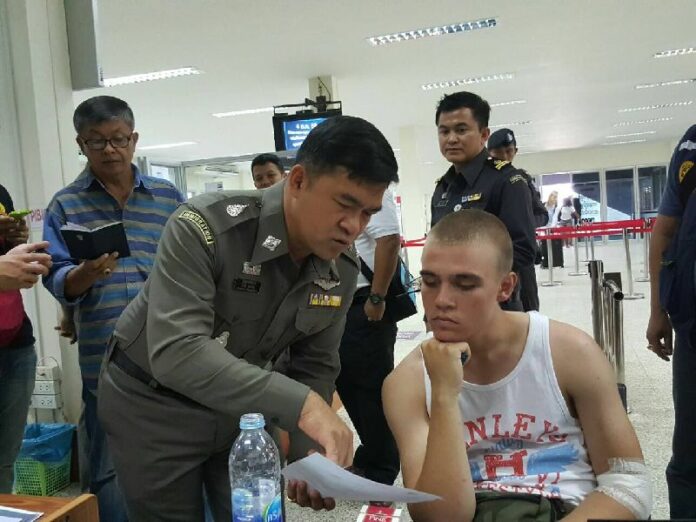 PATTAYA — A U.S. national arrested in connection with the murder of a former Australian Hells Angels biker reportedly confessed to being involved in his abduction.
Police said today that Tyler Gerard, 21, has admitted to being part of an apparent hit squad which on Monday attacked, abducted and ultimately murdered Australian national Wayne Schneider, an Australian said to have formerly been a member of the Hells Angels, a transnational criminal enterprise that became popular during the 1960s counterculture movement in the United States.
Schneider, 38, was found buried dead Wednesday in a shallow grave off a road after being beaten and forced into a truck at the residence where he was staying in Pattaya.
Gerard denied taking part in the murder, said police, who captured him Wednesday as he tried to cross the border into Cambodia at Sa Kaeo.
Warrants for the arrest of four other foreign suspects suspected of involvement would soon be issued, Gen. Sukthat Pumpanmuang of Pattaya police said.
Asked if police believe they traveled to Thailand to execute Schneider or were already living in the kingdom, Sukthat said he could not discuss the details of the investigation. But, he added, they were not registered workers.
"As far as we checked, they did not have professions here in Thailand," Sukthat said.
According to police, Gerard said the other suspect to be identified, Antonio Bagnato, had already fled into Cambodia. Bagnato, 27 and also of Australia, was seen drinking with Schneider the night before he was abducted.
Police found Schneider's body Wednesday after tracking the GPS signal of the truck the suspects are believed to have rented.
The truck was rented under the name of Siriphat Saimart, 25, but police have determined she was uninvolved in the crime.