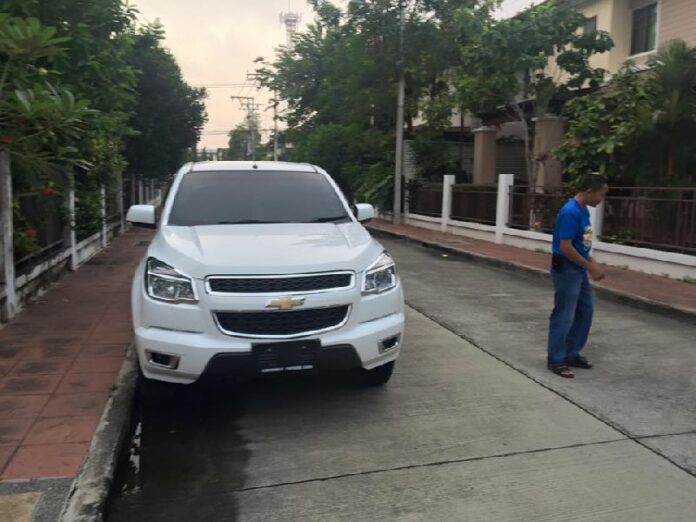 BANGKOK — Leaders of the Redshirt movements today urged the ruling junta to stop sending soldiers to stalk the wife and young children of one of their own.
Ever since two top Redshirt leaders signaled they would visit an army-built "history park" that has become mired in scandal, the activists said in a letter submitted at the junta complaint center today, soldiers have trailed Nattawut Saikua's wife as she took her two children to kindergarten. Soldiers have also been camped out in front of Nattawut's residence "24 hours a day," the letter said.
According to Thida Thavornseth, one of the Redshirt activists who submitted the letter on Nattawut's behalf, the soldiers followed Nattawut's family around in an vehicle without license plates. She called it a "grave violation of human rights," and said the junta must stop this intimidation tactic immediately.
"Please stop taking actions that will turn the country into a lawless land," Thida said. "This is not only for [Redshirt] leaders, but for academics and ordinary citizens, too."
In recent days Nattawut has posted a variety of photos on Facebook showing vehicles without license plates that he says have been following him and members of his family.

Redshirt leaders Thida Thavornseth, Weerakan Musikapong and Weng Tojirakarn on Thursday at the government complaint center in Bangkok

Another Redshirt activist, Weerakan Musikapong, said soldiers stalking Nattawut's family must be investigated, and those who gave the order punished.
"Usually, I don't pick fights with anyone, but intimidating Nattawut's children, who are still in kindergarten, is too much," Weerakan complained. "I believe the prime minister didn't personally order it. The subordinates probably think they can do anything to the people their boss doesn't like. It's like they are being immature. I want the government to find those responsible for this for investigation and punishment."
Thida also believes that the junta is trying to threaten Nattawut and other activists for speaking out about possible corruption in the army's billion-baht historical park.
"The problem in Rajabhakti Park is something that society must ask about. Jatuporn Prompan and Nattawut Saikua are inquiring about it like any other good citizen," she told reporters.
On Monday, Jatuporn and Nattawut were intercepted and detained by soldiers on their way to visit the massive royal monument complex of Rajabhakti Park in order to highlight the reports of corruption associated with the site.
The pair was released later that night without charge. Military government officials defended arresting the two men, citing the need to maintain peace and order.
Since staging the coup against the Redshirt-backed government in May 2014, the junta has banned all forms of political activities and protests. Redshirt leaders say their movement has been often singled out for crackdown and intimidation by the regime.
Related stories:
Rajabhakti Scandal: Redshirts Demand Release of Leaders