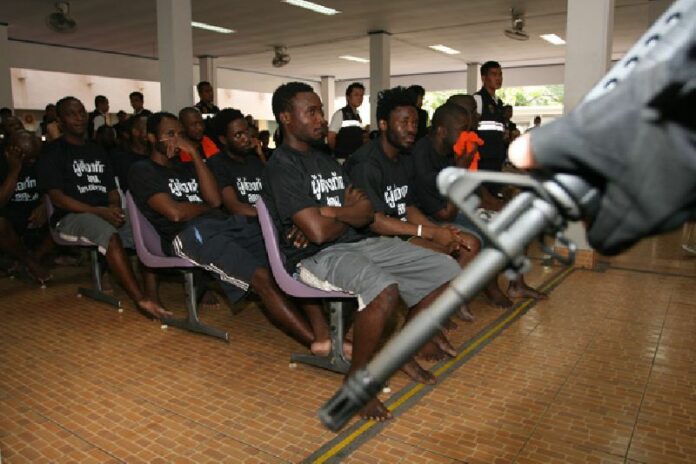 BANGKOK — Harsher punishments introduced last year for foreigners who overstay their visas may actually go into effect in March.
Approved by Prime Minister Prayuth Chan-ocha on Nov. 27., the new system of blacklisting foreign nationals who've overstayed their visas from re-entering the kingdom will go into effect once announced by royal decree in March, top immigration cop Lt. Gen. Nathathorn Prausoontorn said.
Under the rules first approved in August 2014, foreigners who remain in the country more than 90 days after their visa expires are to be banned for one year. Those who turn themselves in for remaining in the country more than a year after their visas expired will be banned for three years. Those who overstay more than three years or five years will be forbidden to return for five years and 10 years respectively.
If overstayers get caught by police, the punishments will be more severe.
Immigration, a matter of cyclical enforcement and periodic crackdowns, returned to urgency after the bombing of a popular tourist attraction in August killed 20 people. Most of the suspects identified in the ensuing investigation appeared to have entered the country illegally, possibly by paying cash bribes at border checkpoints.
The authority hopes that the new policy will help control illegal visitors to the country.
Over 9,000 foreign nationals reportedly were arrested for overstay in the country in October. Police have said they want to reduce illegal immigration by 80 percent.
Related stories:
Thousands Arrested as Visa Overstay Bans go for PM's Endorsement
To reach us about this article or another matter, please contact us by e-mail at: [email protected].
Follow Khaosod English on Facebook and Twitter for news, politics and more from Thailand.