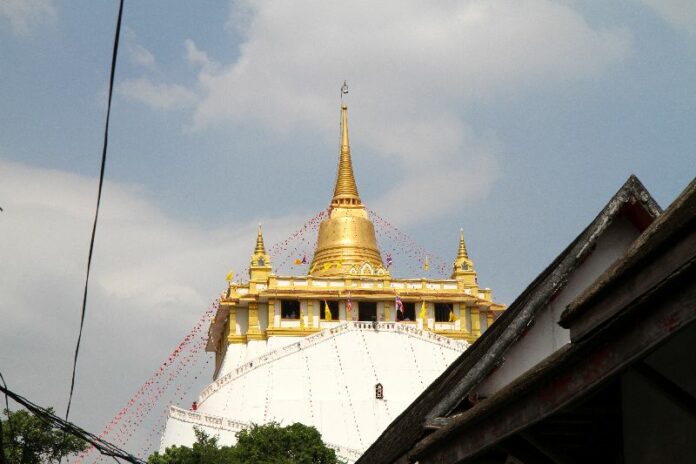 BANGKOK — Days after a former abbot of the famed Golden Mount Temple was found hanged in his room, police now say the monk could have been murdered.
The investigation into the death of Phra Phromsuthi, who was once probed for misusing 64 million baht in state funds, was announced Thursday by the commander of Royal Thai Police, who described the monk's death as "suspicious."
"We found some suspicious clues that need further investigation, but I cannot yet disclose details to you," commander Chakthip Chaijinda told reporters yesterday. "Please give some time for the Metropolitan Police to work on this. I believe there would be progress by Jan. 29."
---
Disgraced Former 'Golden Mount' Abbot Found Hanged at Wat Saket
---
He said he has ordered police to "thoroughly investigate both evidence found at the scene and CCTV footage in the area. They have to investigate every dimension of this case in detail before they can conclude the true cause."
Temple staff notified police on Monday that Phra Phromsuthi, 58, was found hanged in his monk residence at Wat Saket, aka Golden Mount Temple, in Bangkok's historic quarters. Police initially said the former abbot committed suicide.
Police officers in front of Phra Phromsuthi's residence on Monday. Photo: Matichon
Prior to his death, Phra Phromsuthi was embroiled in a national scandal for allegedly misspending 42 million of 67 million baht provided by the state for a prominent prelate's 2013 funeral. The Office of Auditor General also accused Phra Phromsuthi of keeping the rest of the money – 25 million baht – for himself.
After the Auditor General launched its investigation into Phra Phromsuthi in 2014, he was dismissed as the abbot of the Golden Mount Temple, formally known as Wat Saket, though he still resided there as a monk. The temple later returned 25 million baht to the authorities.
Police spokesman Dechnarong Suticharnbancha said temple staff and relatives of Phra Phromsuthi told police he "looked depressed about personal issues" before he was found hanged.
"The family said they don't suspect anything, but we have to investigate this," Gen. Dechnarong said.
No one has been arrested or treated as a suspect so far, Dechnarong said, adding that police have conducted a forensic examination of Phra Phromsuthi's body to find any evidence of foul play. He said he's not sure when the results will be available.
"The preliminary examination of the body is already done. We concluded that he died of suffocation, possibly caused by a rope, but how he died needs more investigation," Dechnarong said.
If a crime was committed, Dechnarong was optimistic about the police's ability to bring justice.
"But let me say, if, if it's really murder, we are confident that police's capability will have no trouble finding the perpetrator."
To reach us about this article or another matter, please contact us by e-mail at: [email protected].
Follow Khaosod English on
and
Twitter
for news, politics and more from Thailand.