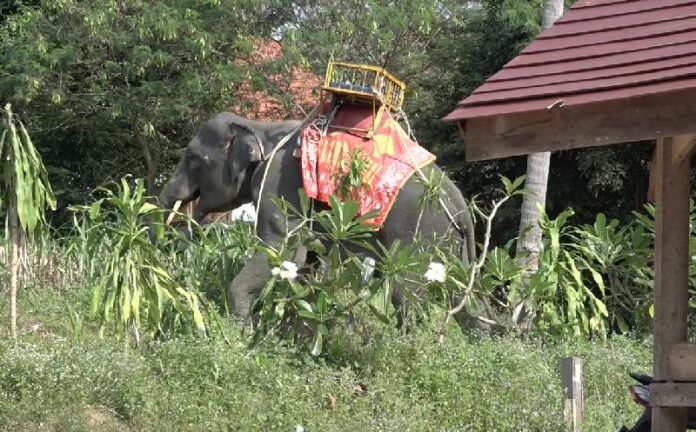 SAMUI — A British tourist was gored to death by an elephant in front of his teen daughter on Koh Samui yesterday.
36-year-old Gareth Norman Crowe was on a holiday elephant ride with his family Monday when the mahout climbed down to take a photo of them, police Col. Chaiyan Bandit said.
The elephant became enraged, hitting the mahout and eventually stabbing him with one of its tusks, breaking two ribs. The elephant then threw Crowe and his 16-year-old daughter from its back. The Scotsman, who used a prosthetic leg, could not flee and was gored in the chest. His daughter was slightly injured, Chaiyan said.
Police believe the elephant grew angry due to the hot weather.
Wongsiri Phromchana, governor of Surat Thani province, said the trekking company must take responsibility for the incident. The mood of the animals needs to be checked for the safety of tourists and mahouts must be trained correctly, Wongsiri said.
Samui livestock officer Cherdchai Charoenwet said the elephant was shot with tranquilizer darts and was not believed to be in a state of "musth," a heightened aggression brought on by heightened hormones. Cherdchai believed the elephant may have been startled by something at the time, perhaps a noise or camera flash.
No one has been charged with any crime yet. Police are investigating the incident to determine whether anyone was at fault.
Chayanit Itthipongmaetee can be reached at [email protected] and @chayaniti92.
Follow Khaosod English on Facebook and Twitter for news, politics and more from Thailand. To reach Khaosod English about this article or another matter, please contact us by e-mail at [email protected].