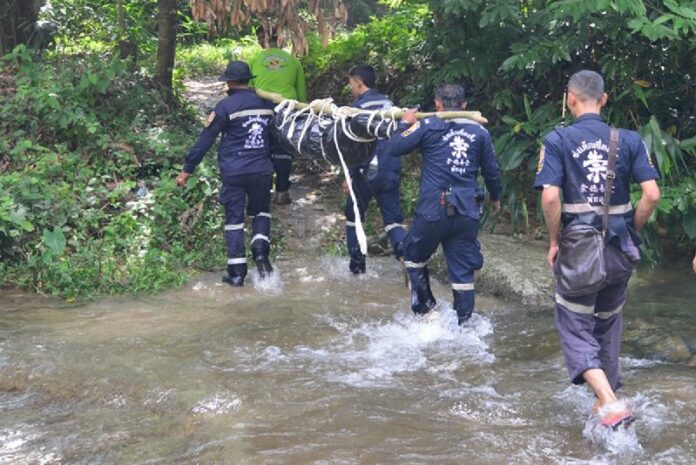 PHATTHALUNG — Four men, including two minors, were arrested yesterday in Phatthalung province and accused of abducting a young woman and man, the latter of which they murdered, in an ordeal captured on one suspect's phone.
Police believe five suspects plotted in cold blood to abduct, hold captive and ultimately slay the couple out of jealousy and to settle a "personal dispute" in a crime which has attracted widespread attention for its brutality.
"It was a personal dispute. They insulted each other on Facebook, and [the suspects] lost their temper, so they went ahead with the crime," said Col. Wichai Wichayanarupol, commander of Sri Nakharin Police Station.
The murdered man, 18-year-old Passakorn Kongsawasdi, had recently broken up with a family member of one of the suspects and was dating the female victim, who was the same suspect's ex-girlfriend, Wichai said.
The four arrested suspects were identified as two 19-year-old men and two 17-year-old male minors. One of the adult men was identified as Nopporn Thongead. Wichai added that police are looking for a fifth male suspect, 20, whose role in the crime was unclear.
Police did not name any of the other suspects.
According to police, the four men phoned and invited Passakorn and his 18-year-old girlfriend Wednesday to meet to settle their dispute in a forest in Banna district in neighboring Trang province.
When Passakorn and his girlfriend showed up, the suspects reportedly ambushed and held them in a hut for three days. On Saturday, they took the victims out to a clearing, tied them up and made them watch as they dug a grave, police said.
The suspects allegedly later raped Passakorn's girlfriend in front of him before shooting him with a shotgun and burying him, at which point they stabbed the woman and left her for dead.
She survived the assault and managed to seek help from local residents, who alerted police. Wichai said the woman, whose name is being withheld as a victim of sexual assault, is recovering at hospital, where police officers have been posted for her safety.
Two of the four men were arrested Monday while two others surrendered to police in Chumphon province. The suspects told police they filmed the entire thing with a phone camera.
Wichai said the suspects were neither intoxicated nor under the influence of drugs when they committed the alleged crimes.
"Before the incident, they tried to settle the dispute, but they failed to settle the matter, so out of momentary rage they attacked the two victims," Wichai said.
The suspects have been charged with a number of offenses, including premeditated murder, rape and unlawful detention.
Teeranai Charuvastra can be reached at [email protected] and @Teeranai_C.