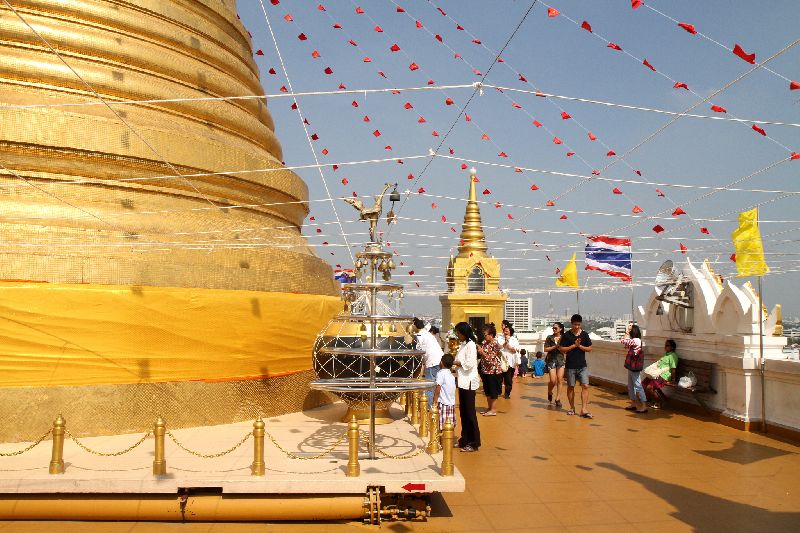 BANGKOK — Police say they will continue investigating the death of the former abbot of Bangkok's Golden Mount Temple, despite the discovery of what his relatives insist to be the monk's suicide note.
Phra Phromsuthi, who was found hanged in his monk residence on Jan. 25 at Wat Saket, has been the subject of an inquiry by Royal Thai Police investigators seeking to determine whether his death was indeed a suicide.
Although Phra Phromsuthi's family believes the monk committed suicide and gave to police a note he purportedly wrote, investigators are still working the case because of the former abbot's "notable" history, as Bangkok police commander Songpol Wattanachai put it.
"He was a high-ranking monk, and there are many notable issues," Maj. Gen. Songpol said Tuesday.
The alleged suicide note detailed former abbot Phra Phromsuthi's desired funeral arrangements.
Songpol was referring to a 2013 investigation launched into Phra Phromsuthi, then temple abbot, by the Office of Auditor-General for allegedly misusing 64 million baht in state funds. The monk was later cleared of wrongdoing but was removed from his position as abbot as a result.
---
Police Investigate Former 'Golden Mount' Abbot's Death as Suspicious
---
According to Songpol, forensic police are examining evidence, including the alleged suicide note.
"Please wait a little. We are waiting for the results of the inspection of evidence. We are checking fingerprints on the suicide note, the handwriting, the pen, the ink and the paper itself, to find out whether he really wrote it," Songpol said.
Phra Phromsuthi's family members told the press they found the letter in the monk's bag several days after his death. The note expressed a wish for a "humble funeral."
If the note is proven to be genuine, it will be a strong indicator the monk indeed killed himself, he said, adding that police have not found anything that indicates foul play in Phra Phromsuthi's death so far.
"Right now, there's nothing that indicates any other cause, but we don't want to wrap it up before all the evidence has been thoroughly inspected," Songpol said.
Their conclusions will probably be announced next week, he said.
Teeranai Charuvastra can be reached at [email protected] and @Teeranai_C.