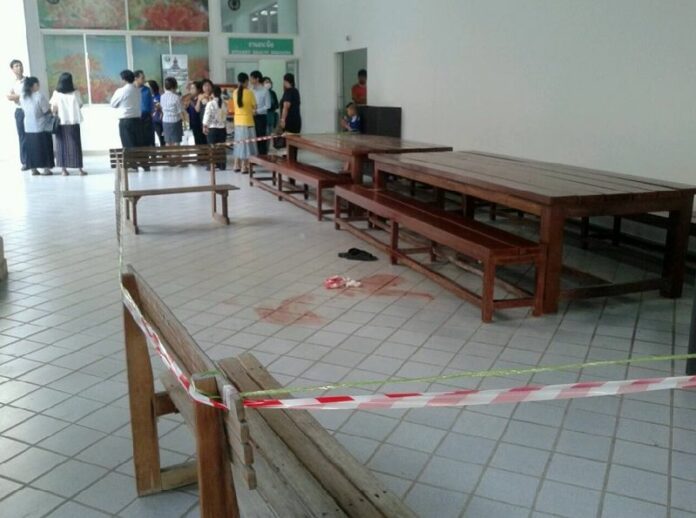 BANGKOK — A university gardener is in custody on suspicion for killing a fellow employee on the Rangsit campus of Thammasat University this morning.
Police said Somnuek Kaewtham, 55, opened fire and killed an administrative official at around 10am after a heated argument, then fled the scene. The shooting in front of numerous bystanders just outside the Rector's Office was described by a university administrator as "unprecedented."
Local police commander Kemphat Bodhipitak identified the victim as 58-year-old Amnart Niyomsakdi, a university employee in the disabled students affairs department.
According to Col. Kemphat, Somnuek and Amnart had a long history of enmity. Their dispute turned fatal today when Somnuek and Amnart got into an argument, and Somnuek abruptly pulled out a revolver and shot Amnart, Kemphat said.
Amnart died on the way to the hospital, the officer added.
Somnuek initially fled the scene on a motorcycle, but police arrested him Friday afternoon, Col. Kemphat said. He has yet to be charged with any offense.
Chanan Phonprapai, an assistant rector of Thammasat University, said he was shocked.
"We never expected this. It's unprecedented," Chanan said. "It's already very, very rare for our staff to have fights, let alone kill each other."
Asked why a gardener would carry a revolver on his duty, Chanan said the university has a no-firearms policy, and he was not aware why Somnuek was packing heat.
He added that university administrators will convene to consider possible security measures in light of the fatal shooting.
Teeranai Charuvastra can be reached at [email protected] and @Teeranai_C.