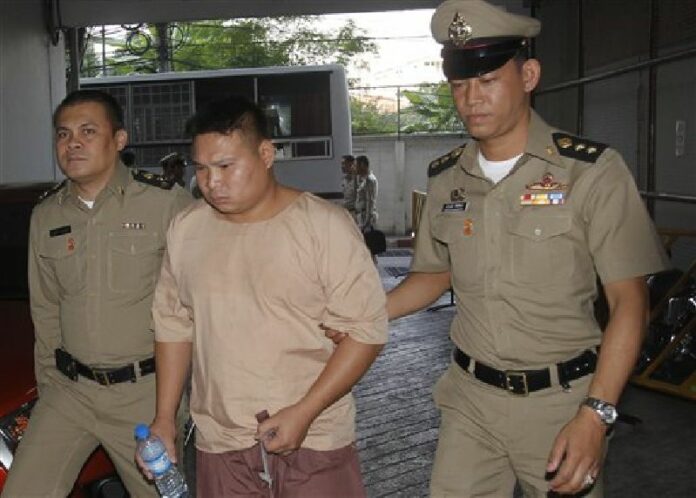 BANGKOK — A gunman who wounded four people, one fatally, when he opened fire in front of scores of witnesses during a political confrontation in 2014 was sentenced Thursday to 37 years in prison.
Vivat Yodprasit attained iconic status as the "Popcorn Gunman" because he concealed his assault rifle inside a large bag with the logo of a popcorn company as he fired. He became a folk hero for the side he was supporting — a mob that sought to block an election called by the government of then-Prime Minister Yingluck Shinawatra. T-shirts emblazoned with the popcorn logo became popular.
The Criminal Court found him guilty of murder, attempted murder and several weapons charges. The murder victim was a soft drink vendor who died seven months after being shot.
The "popcorn gunman" in Lak Si district on 1 Feb 2014.
Vivat wore a balaclava to hide his identity as he shot, but that same day was photographed without it on, allowing him to be identified and arrested a month afterward. He was part of a crowd that was demonstrating against Yingluck's supporters.
The confrontation was one of several bloody incidents in months of unrest stirred up by opponents of Yingluck's government, who called themselves PCAD (People's Committee for Absolute Democracy With the King As Head of State).
They succeeded in disrupting the election, and the confrontations they staged served as a reason for the army to take power in a coup d'etat that May.
Story: Associated Press
Related Stories:
Trial For 'Popcorn Gunman' Postponed
Yingluck Allies Blast Threat of Lawsuit Over 2014 Election