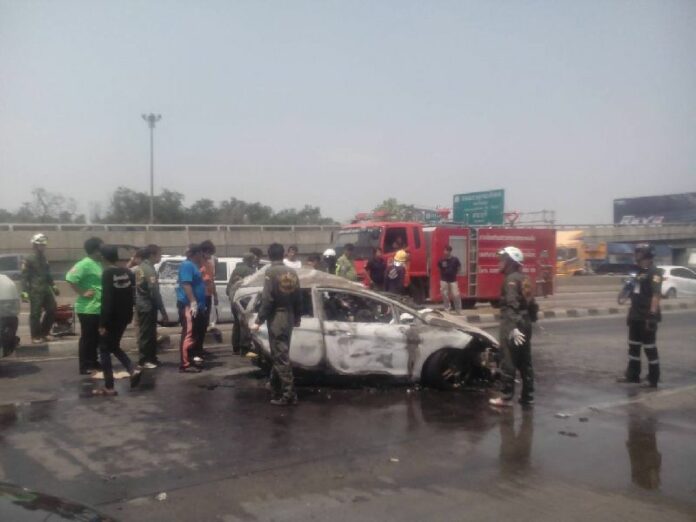 AYUTTHAYA — A wealthy businessman who killed two graduate students in a high-speed car crash has agreed to a blood test 15 days after the accident, a police commander said.
Blood was taken today from the 37-year-old suspect, Jenphop Viraporn, who had not been tested sooner because police lacked his consent to do so, according to Maj. Gen. Sutthi Puangpikul, commander of Ayutthaya police.
"In the case of blood tests, we have to ask suspects for their consent," Sutthi said. "This is about the law."
---
Top Cop Apologizes for Delay in Jenphop Case
---
Asked about the national police commander's remarks last week that an antidepressant substance had been found in Jenphop's blood, Sutthi said that was in fact a misunderstanding, as police chief Chakthip Chaijinda was talking about an examination of pills recovered from his wrecked Mercedes-Benz after the crash.
Sutthi said the toxicology results would be made public by the end of the week.
Jenphop was not charged with any crime until three days after he crashed into another car March 13 in Ayutthaya province. The impact started a fire that killed the two people inside: 32-year-old Krissana Thaworn, and Thantapat Horsaengchai, 34.
News of the delayed blood test is likely to compound the widespread criticism that police slow-walked the investigation, especially after they failed to conduct a legally mandated sobriety test in the immediate aftermath of the deadly crash.
Despite media reports that Jenphop was traveling in excess of 250kph, police have yet to release their conclusion about his travel speed at the time of the accident. They had earlier indicated the information would be available by Monday. Sutthi said it might be available Tuesday.
Jenphop has been charged with fatal reckless driving and driving under influence that leads to deaths of others. Sutthi said he did not know if the suspect would appear at his second custody hearing scheduled for Tuesday.
Related Stories:
Fresh Charge Against Jenphop as Model Student Victims Laid to Rest
Businessman Charged for Fatal Collision Amid Mounting Criticism
Officers In Charge of Ayutthaya Deadly Collision Removed
Jenphop Plowed Through Toll Booth Before Deadly Crash (Video)
Teeranai Charuvastra can be reached at [email protected] and @Teeranai_C.