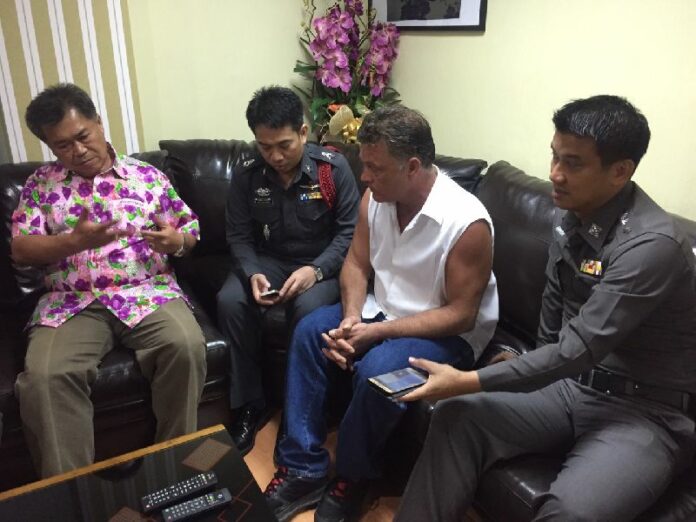 PATTAYA — A foreign man has been arrested and accused of sexually assaulting a woman, but not until video of the event invited widespread scorn for the alleged victim.
The 20-year-old woman, who works as a bargirl in Pattaya, said she was too intoxicated to fend off the tourist who forced her down and performed oral sex on her in front of a crowd of Songkran revelers Friday.
The video was originally posted on Facebook page Godfather of Awesome Clips on Saturday and quickly went viral. It has been viewed for over 100,000 times by Sunday morning. The video has also been republished by many Thai media agencies and web forums.
The majority of the netizens' reactions to the video was to castigate the woman, in many cases blaming her for what transpired.
"Because of this, Thai women are branded as you-know-what, [especially] if they have farang boyfriends. You have brought negative opinion to your fellow women," Facebook user Nataka Somkan wrote In the Godfather of Awesome Clips thread. "I understand that you work that way, but is it appropriate, in such a public place?"
Facebook user Bee Berry: "Because you behave this way, farangs accuse Thai women of the entire nation of being prostitutes."
In a version of the video posted to YouTube site, user Mina laurikainen wrote: "I have only one word for them both: disgusting."
Meanwhile, some internet users express their exasperation at what they perceive as the holiday's state of licentiousness.
"It's the most fucked-up festival in the world. Please, just admit it," user Chalermpol Tospong wrote in the Godfather thread. "There's only degrading and horrible stuff."
As for the woman in the video, she said at a meeting with Pattaya police on Saturday that she could not remember anything that happened because of her drunkenness, and she was only rescued from the man when her colleagues intervened.
After video of the incident went viral on social media, she decided to file complaint against the man, she told reporters.
Police later identified the suspect as U.S. citizen Ben Bartanyi, 49, and arrested him on Saturday. He was charged with public indecency. Bartanyi confessed to being the man in the video and apologized for his action, said Pattaya City Police Station chief Sukthat Pumpanmuang.
Another police officer, Pitak Nernsang, also told reporters the woman is being treated as a victim in the ongoing investigation, as police believe Bartanyi assaulted her without her consent.
However, a number of internet users remained unconvinced by the victim's version.
A member of the ThaiVisa forum, Berty100, criticized a news site's decision to blur the face of the victim.
"So why is the face from the lady blurred out, while the foreigners face isn't," Berty100 wrote. "She is as much an offender as the foreigner, as I noticed from the coverage that she was enjoying the act."
Teeranai Charuvastra can be reached at [email protected] and @Teeranai_C.