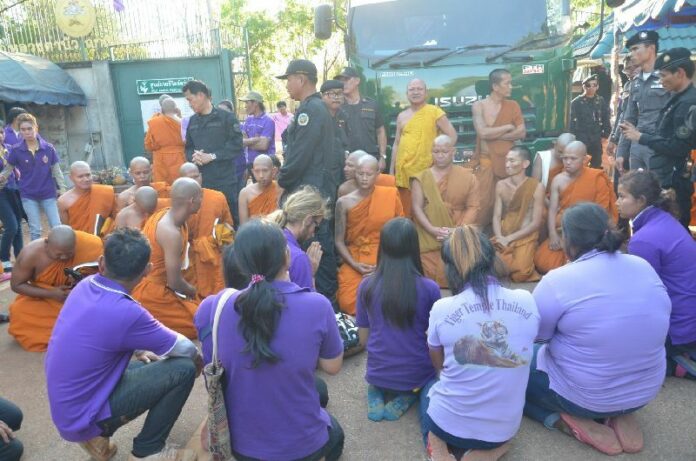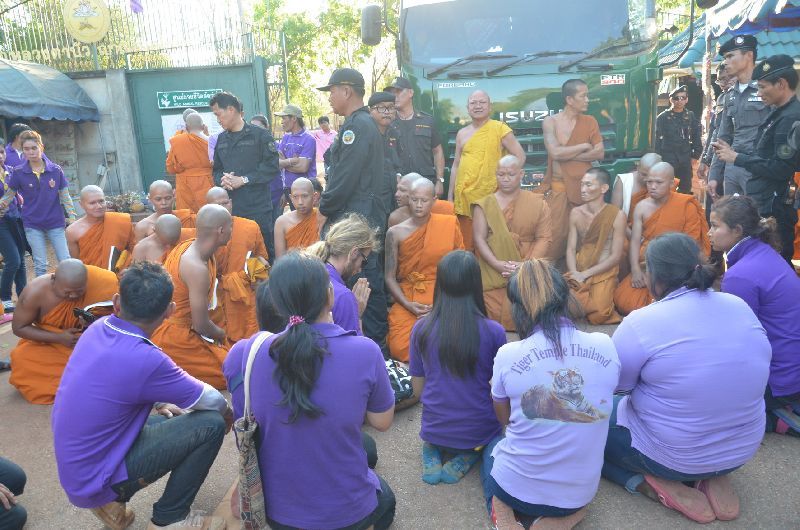 KANCHANABURI — An animal rights NGO said today it would take the authorities to the court for granting a zoo permit to a temple notorious for operating an illegal, commercial wildlife business.
Activist Edwin Wiek said Monday the lawsuit would be a "last resort" in his efforts to stop Wat Pha Luang Ta Bua Yanasampanno, aka the Tiger Temple, from getting the long-sought permit that would legalize its operations.
---
Tiger Temple to Reapply After Zoo Permit Denied
---
"What happened is a clear violation of the regulations, because there are so many pending cases against the temple" said Wiek, who heads Wildlife Friends of Thailand.
He did not say when he would file the civil suit.
Pressured by animal welfare activists and an international outcry, authorities have for years waged a reluctant battle against the influential Tiger Temple on wildlife-related charges, such as illegally keeping tigers and other protected species.
The temple, which has bred an untold number of tigers in captivity, has also sold at least three of its big cats, but insists it was done legally.
Wildlife officials have made slow progress. After declaring again in January that it would remove all tigers from the temple, which caters to tourists willing to pay to touch the animals, only 10 of the 147 animals have been removed.
Wildlife officials on Feb. 23 load a tiger onto a truck at the 'Tiger Temple' in Kanchanaburi province.
The zoo permit would allow the Tiger Temple to legally keep its tigers, and even buy those 10 back from wildlife authorities, said Saiyood Pengboonchoo, a lawyer for the temple.
"Once the cages are completed, we will get the tigers back," Saiyood said by telephone Monday.
He said the Department of National Parks approved the zoo permit Thursday, and he estimated that the 25 million-baht zoo would be completed within two years.
Saiyood added that the zoo will be registered under a separate private enterprise, called Tiger Temple Co., to stave off any potential backlash from religious authorities.
"The bureaucracy doesn't want the temple involved in this because it would look bad," Saiyood said.
Asked who will head the company, the lawyer said Tiger Temple abbot Phra Wisutthisarathen will appoint a disciple to head the enterprise.
Wiek, whose organization has campaigned against the Tiger Temple's wildlife business for years, said his assessment in January that the battle had been won was overly optimistic.
"My feeling for this issue, well, the Department of National Parks seemed to be very serious in the past about many cases," Wiek said. "But why aren't they taking any action against the Tiger Temple? I feel disappointed in the department and in the police."
Related stories:
5 More Big Cats Removed from 'Tiger Temple'
5 Big Cats Removed Overnight from 'Tiger Temple'
'Tiger Temple' to Sue NatGeo Over Damning Report
Temple Refuses to Release Tigers, Again
Asian Black Bears Seized From Thailand's Tiger Temple
Thailand's Tiger Temple Ordered to Give up Tigers
Teeranai Charuvastra can be reached at [email protected] and @Teeranai_C.