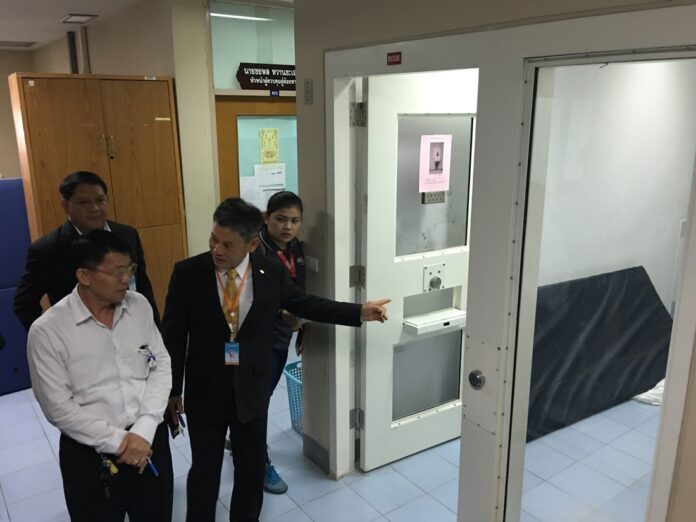 BANGKOK — The head of the Justice Ministry said Sunday that a hospital director discredited law enforcement by blaming investigators for the death of a suspect in custody last week.
Gen. Paiboon Kumchaya said it's too early to speculate how former land official Thawatchai Anukul died in his cell at the Department of Special Investigation on early Tuesday morning despite a doctor's insinuation the agency was involved.
Hospital Contradicts DSI 'Suicide' Explanation For Suspect's Death in Custody
"How could you write something like this? By writing it, you damaged the relevant agencies, because the investigation is not concluded," Gen. Paiboon said. "Maybe it's true as you wrote, because no one knows for sure, but you can't speak out about it at this time, because if the investigation is concluded, and it turns out you're wrong, other agencies are already damaged."
That message was aimed at Rienthong Nanna, the director of the hospital whose staff were among the first responders. Rienthong wrote Saturday that he believed some officers at the department conspired to have Thawatchai murdered.
"It was likely a case of murder in which officers within the Department of Special Investigation knew about and cooperated with the assassins, without any acknowledgement or involvement from directors of the Department of Special Investigation," Rienthong of Mongkutwattana Hospital wrote on his Facebook.
Rienthong's comments came after the department's previous explanations – suicide and then botched CPR – were refuted by medical experts.
Paiboon told reporters Sunday that Rienthong prematurely went public with his opinion.
He continued, "I am not criticizing his expression of opinion. I am criticizing an expression of opinion that damages other agencies."
The ministry was not considering any legal action against Rienthong, Paiboon added.
Thawatchai was arrested and detained at the DSI on allegation that he forged hundreds of illegal land deeds in Phang Nga, Surat Thani and Phuket provinces to wealthy business operators under his watch as a land official. The deeds were worth billions of baht, police said.
The DSI announced Wednesday that Thawatchai hanged himself in the cell the day earlier by tieing his socks to a door hinge. When preliminary autopsy result said the 66-year-old suspect actually died of injuries in his liver, the department blamed it on improper CPR procedure.
The latter explanation was later dismissed as impossible by Rienthong, the Mongkutwattana Hospital director.
Thawatchai's death raised speculation on social media that he may have been silenced before his case went to court, possibly with help from some insiders. The DSI said it has set up a panel to find out whether any of its officials were involved in the incident.
Police spokesman Krisana Pattanacharoen said Sunday that extensive lab results from forensic examiners would determine Thawatchai's cause of death within 30 days.