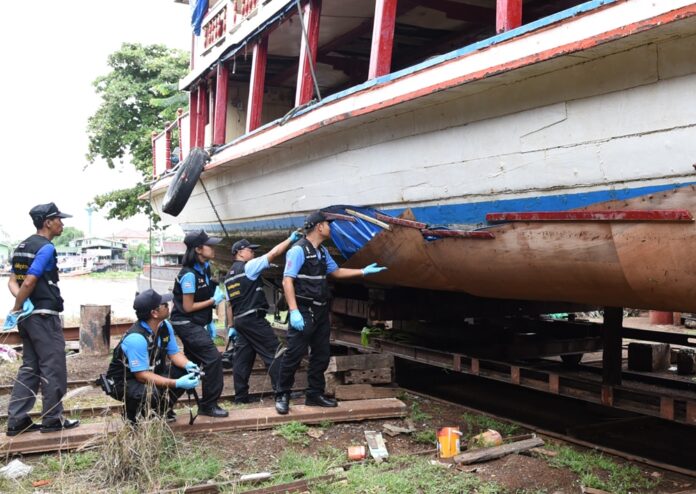 AYUTTHAYA — Officials might have stolen the premiums for a missing insurance policy meant to compensate the families of those who died in a recent boat accident, the Marine Department said Friday.
The department's director said only embezzlement or a clerical error could explain what happened to the policy paid for by the owner of the boat which capsized and caused 28 Muslim pilgrims to die Sunday. The investigation was announced Thursday along with a review of such policies nationwide.
Ferry Captain Charged As More Bodies Pulled From Chao Phraya
"It might have been careless mistake, or whatever reasons," Sorasak Saensombat, director of the Marine Department, said by telephone Friday. "We're investigating how it happened. Was it like what the boat owner said? Or was it a careless mistake? We're looking for facts to confirm it."
After his boat capsized, owner Sunthorn Pansueathong learned the insurance policy he paid for when he renewed its license didn't exist. Insurance for vessels can be paid for and arranged through the department.
Speaking at Ayutthaya City Police Station on Thursday, Sunthorn denied the boat was uninsured. He said he paid officials for mandatory premiums for Thai Pattana Insurance Co. in June when he renewed the license in Nonthaburi province.
On Monday the Nonthaburi office denied that he renewed the insurance, he said.
"Can anyone explain to me what happened? Where's the money I paid? And how could the license be issued in the first place?" he said.
Sunthorn owned the boat rented Sunday by a group of Muslims in Nonthaburi for travel to an annual religious ceremony at a mosque in Ayutthaya on Sunday. The boat, captained by Wirat Chaisirikul, hit a berm at high speed before sinking. Twenty-eight people died, including children. Police said the boat was overloaded twice over capacity.
Per regulations, licenses can only be issued for vessels with valid insurance.
Hathaikan Penkun, head of Nonthaburi's Marine Department office, was transferred to an inactive post Thursday while her office is investigated for possible embezzlement.
The inquiry will take about two weeks, Sorasak said. In the meantime, he said, marine officials will inspect all passenger boats nationwide to see whether there are other cases of missing insurance.
"By mid-October, we expect to have the answers," Sorasak said.
He also ordered implementation of a new computer system to prevent officials from fraudulently issuing permits.
Due to the lack of insurance, Sunthorn told reporters Thursday he's selling his assets and borrowing money from his family members to compensate the victims' families.
He's charged with several offenses, including operating an overloaded vessel that caused death and injury. He faces life in prison.
Sunthorn was granted bail on Thursday, police said.
Related stories:
'Sit Down!' Video Captures Sinking of Chao Phraya Ferry (Video)
Death Toll in River Ferry Accident Rises to 18, Search Goes On