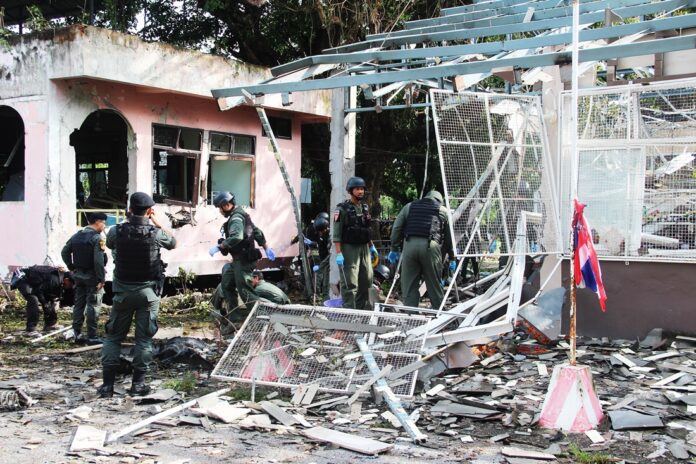 PATTANI — A car packed with explosives detonated at a gas station Thursday night in Pattani, wounding at least three people.
Although no one claimed responsibility for the attack and police having yet to identify any suspects, the province and its neighboring region are home to separatists who have often staged bombing and arson attacks.
"We are still investigating," Col. Montri Kongwatmai, chief of Yaring police, said Friday when asked about the assailants. "No one has been arrested so far. Our investigators are having a meeting."
He said they were revising their security plans in response to the attack.
Police said someone left a vehicle reported stolen in August at the gas station before another motorcycle picked him up and fled the scene. The explosion had a blast radius of 50 meters, obliterating the gas station and damaging nearby buildings. Initial reports said that five civilians were injured but that had been revised to three by Friday morning. No fatalities were reported, Montri said.
Police estimate the car bomb caused at least 2 million baht in damages.
At least 6,500 people have been killed since the separatist violence broke out in early 2004, according to a 2015 estimate by Deep South Watch. Most of those killed have been civilians.
Despite calls from authorities and civil rights groups to respect humanitarian rules of war, suspected separatist attacks on civilians and other soft targets have spiked in recent months.
Related stories:
3 Policemen Killed, 1 Injured in Yala Car Bomb Explosion
Regime's Southern Overtures Met With 19 Attacks, 3 Deaths