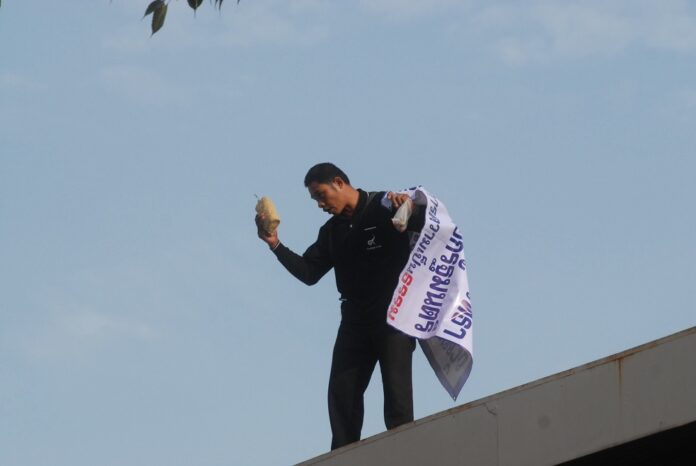 BANGKOK — A man climbed a structure near the Government House on Tuesday morning, armed with ping pong bombs and a sign demanding justice from Prime Minister Prayuth Chan-Ocha.
Chalerm Sornnonthee, 43 of Nan province, allegedly threw several ping pong bombs from atop the Government Savings Bank branch toward the regime's seat of power, apparently to seek help with a financial problem. Police said it was his third such stunt.
"Do you know what's going on, you higher-ups? Do you know?" he is heard screaming in a video of this morning's incident.
Chalerm also reportedly waved around what he said was a large bomb before putting it back in his bag.  An official eventually talked Chalern down from the roof at which point he was taken into custody.
"I have hope and faith in the prime minister. I need justice," read his banner.
Chalerm was reportedly asking for Gen. Prayuth's help with a debt he felt was unfair. As of noon, Lt. Col. Juk Jukkarat of Dusit police said they were still investigating and had yet to charge Chalerm.
The large "bomb" was not real, he added.
"It's not a real bomb or a flare," he said. "It's just an item shaped like a bomb."
Chalerm had previously come to protest at the Government House twice before, climbing a fence onto the roof of a security office in April 2015 to demand investigation of a water project in Nan province. A few months later in October 2015 he poured oil on himself and threatened self-immolation to demand another investigation.
He went home after government officials told him they would investigate.