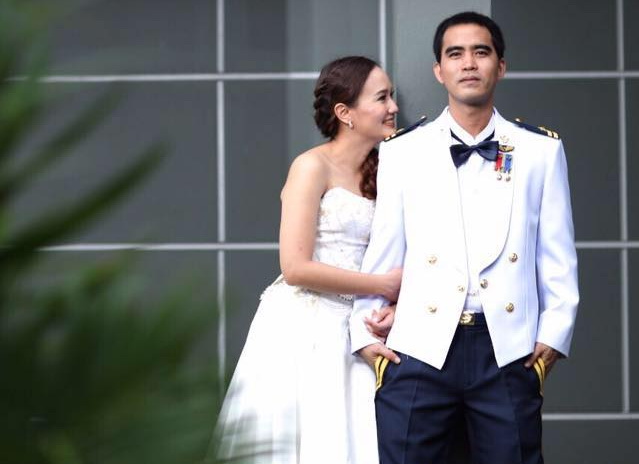 BANGKOK — All military aircraft will operate normally while the Air Force finds out why one of its Gripen jet fighters crashed during an airshow, killing its pilot, a defense spokesman said Monday.
With the funeral for Squadron Leader Dilokrit Pattawee set to take place in Bangkok today, the spokesman defended safety standards of the Thai Armed Forces, despite a string of deadly mishaps through the years. He urged the public not to come to any premature conclusions while the inquiry is ongoing.
"We will check all the details. We cannot make unsubstantiated comments," Maj. Gen. Kongcheep Tantravanich said by telephone. "Otherwise, the [reputation of the] company that sold us the Gripens might be damaged, or the pilot might be damaged."
Read: Gripen Fighter Jet Crashes at Hat Yai Air Show, Pilot Killed
Officials earlier said both pilot and plane had checked out prior to Saturday's incident, which happened during an airshow for Children's Day in Songkhla province.
Kongcheep said the Air Force will spend "a month or two" investigating. As of this moment he could not say whether the crash was due to a human error or an engine failure.
Dilokrit, 34, died Saturday as he demonstrated an assault maneuver of the Swedish-made jet fighter over an airport in Songkhla province. The deadly crash unfolded before hundreds of terrified children.
His JAS 39 Gripen was one of 12 acquired by the air force in 2008.
Dilokrit was posthumously promoted to the rank of air marshal.
'We Have to Live With Risk'
The military is fraught with a history of faulty or poorly maintained equipment, which has occasionally resulted in fatalities, or even bogus gear, such as a set of fake bomb detectors sold by a now-convicted British conman.
Five soldiers died when their helicopter went down close to Doi Inthanon in August. Five years earlier, three army helicopters crashed within a space of four days, killing 17 soldiers and one reporter onboard.
Maj. Gen. Kongcheep said the military trains its personnel rigorously in safety measure and takes all necessary maintenance to make sure that its vehicles work safely. He blamed "unforeseeable factors" like weather and engine malfunction for the accidents.
Read: Sweden Denies Discussing Sale of Fighter Jets to Thai Junta
"It's like if you drive a car, and the engine suddenly stop in the middle of the road," Kongcheep said. "We do our best, but there are some unforeseeable factors that we cannot predict. For example, when helicopters crash, it is because the pilots encountered severe weather. No one wanted it to happen."
However, the spokesman conceded that much of the equipment in the arsenal is aging and military personnel have no choice but to work with it.
"To speak frankly, every weaponry in our service is rather outdated, so we have to live with the risk," Kongcheep said. "We want new things, but there's always problem when we want to buy something. So we have to live with the same, old military hardware. For example, when it rains heavily, we still have to use helicopters that are really old."
But critics of the Thai armed forces said the military already accounts for a massive and ever-growing budget. Spending for 2017 is set at 200 billion baht, an increase of 4 percent over the previous year. The Defense Ministry is also seeking to buy tanks and submarines from China, a project that could cost billions of baht.
Related stories:
Army's 350 Mil Baht Airship Breaks Down Again After Re-launch
Army Downplays Concern Over Old Choppers After Deadly Crash
Fake Bomb Detectors in Attacked Pakistani Airport Used By Thai Army