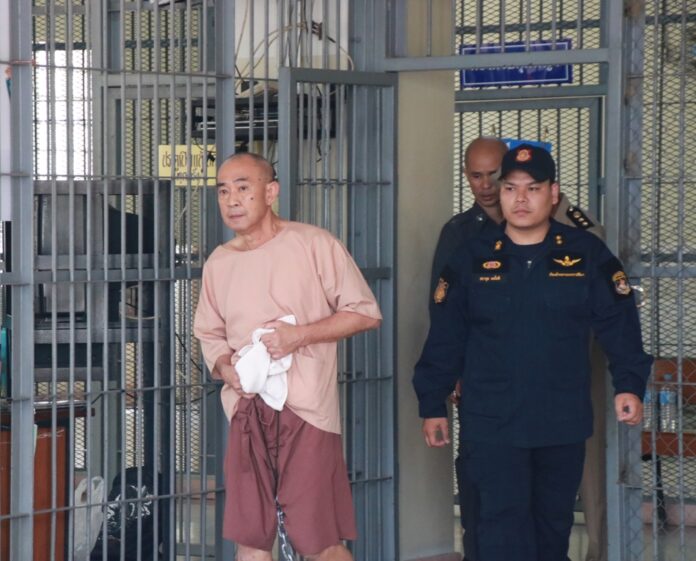 KORAT — The trial of a former palace aide ended after four hours Friday in a guilty verdict and three-year prison sentence for Jumpol Manmai.
Jumpol, who was stripped of both his police ranks and royal decorations on Tuesday, confessed to land encroachment charges in a Korat courtroom for a mansion he built atop a national park in the province.
He has been held at a special prison in eastern Bangkok since last week. Jumpol was brought to the Korat court by helicopter today in brown prison garb and shackles. He did not speak to reporters.
Read: Sacked Palace Aide Confesses to Land Encroachment, Asks to be Jailed
After a four-hour trial, the court convicted him of the charge and handed down a sentence of six years in jail, which it cut in half because he pled guilty. Jumpol was also fined 890,000 baht in damages.
Jumpol was taken to prison immediately.
Jumpol, 66, served as a deputy police commissioner before he became a grand chamberlain in the royal palace last year. The palace expelled Jumpol on Feb. 27, two weeks after police announced they were investigating him for land encroachment.
On Tuesday the government issued an order stripping him of his police general rank and all royal decorations that he has received for his service to the palace.
Some details of this article have been been omitted to comply with the criminal royal defamation law.
Related stories: