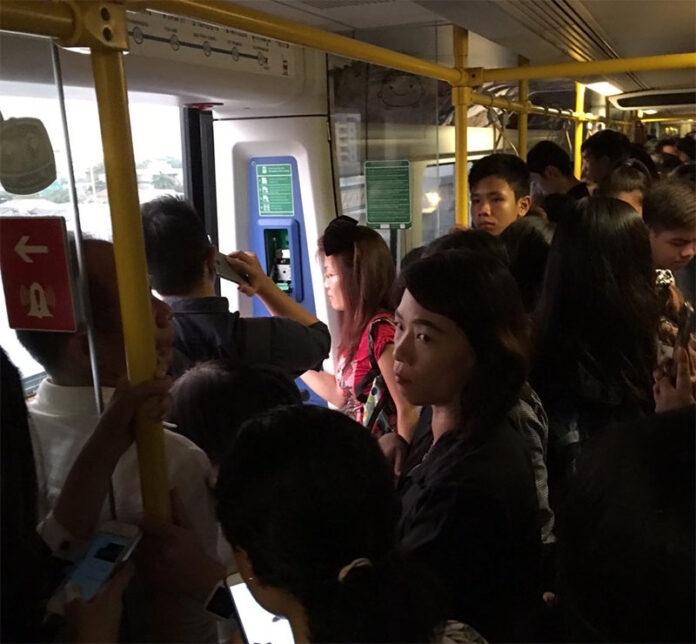 Update: The Airport Rail Link says everything is fine as of 7:47pm.
BANGKOK — Passengers were stranded aboard the Airport Rail Link on Monday evening when the line broke down following the sound of an explosion, according to social media reports.
The airport-bound train reportedly stopped running between the Ratchaprarop and Ramkhamhaeng stations at about 6:30pm. Passengers stranded in the train said they had to break open emergency exit for air, as air conditioning in the carriages also stopped working.
"Airport Link broke down again. We can't breathe. Some passengers broke out the emergency door for air to breathe. Very crowded here," @ThonGThonGZa tweeted at 6:35pm with a photo.
The explosion was heard as the train was leaving Ratchaprarop. One person was said to have fainted in the heat.
@js100radio แอร์พอทลิ้งขบวน 2052 ตอนนี้ไฟดับหมดแล้ว รอขบวนรถฉุนเฉินมาช่วยเหลือ ระหว่างสถานีราชปรารภไปรามคำแหง pic.twitter.com/tgZiPvKH1c

— Apichayakorn (@ThonGThonGZa) March 13, 2017
แอร์พอร์ทลิ้งเสียอีกละ หายใจไม่ออก มีผดสทุบส่วนฉุกเฉินเปิดประตู เพื่อหาอากาศหายใจ คนแน่นมาก ระหว่างสถานีราชปรารถไปรามคำแหง @js100radio pic.twitter.com/Vc6TG5yOUi

— Apichayakorn (@ThonGThonGZa) March 13, 2017
แอร์พอร์ตลิ้งค้าง….ประสบการณ์โคตรใหม่ pic.twitter.com/LUMDRHpTg7

— ตม. (@tmpchrp) March 13, 2017
40 minute delay on #Bangkok Airportlink. Unsure why at this point. @AirportRailLink pic.twitter.com/lXBrL4z0vg

— Will McLaughlin (@Will_BKK) March 13, 2017
@js100radio รอดละครับบ ใช้สะพานมาเทียบตรงกลางขบวนรถไฟระหว่าง 2 ขบวน 1 สะพาน ละเดินข้ามไปยังขบวนฉุกเฉิน ขนถ่าย ผดส. ใกล้หมดละครับ pic.twitter.com/WpMo9VPAXv

— Apichayakorn (@ThonGThonGZa) March 13, 2017