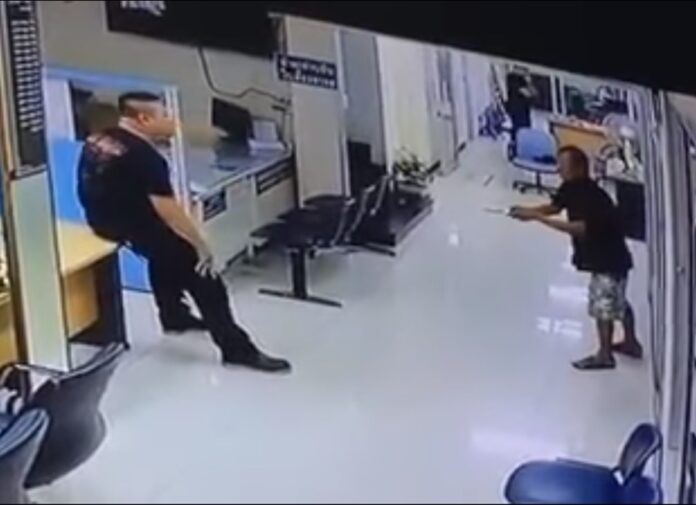 BANGKOK — When a man erupted into a police station brandishing a knife, Senior Sgt. Maj. Anirut Malee did not reach for his sidearm or tackle down the assailant.
Instead, Anirut calmly talked to the intruder and eventually convinced him to hand over the knife.
He then gave the man a hug.
The June 17 incident at Huai Khwang Police Station was captured on security camera, footage of which later went viral on social media, where many praised Anirut for using kindness rather than violence to resolve tensions. In a phone interview Friday, the officer said he was merely following a procedure taught to every police cadet: talk first, shoot later.
"We try to negotiate first," said Anirut, who's been a cop for 23 years. "I could have wrestled him down and taken his knife away, but what if he ended up hurting himself?"
The officer said he was working that night when he heard shouts that someone had entered the police station armed with a knife.
Anirut said he ordered all other policemen to leave the area and started talking with the intruder. He gathered the man was stressed because his employer had cheated him of his salary and someone had recently stolen his guitar.
"I told him, 'Please calm down, brother. If you want a guitar, I can give you one. I promise you, but you must lay down your knife first,'" Anirut recalled. "I had to make him feel he could trusts me."
Anirut said he gave the assailant a hug after he surrendered the knife because he's a Muslim from Songkhla province, where it is common for people to hug each other as greetings.
The policeman said it's not the first time he had to defuse a tense situation by talks. Anirut said he once successfully convinced a suicidal person not to jump off a building.
When the video reached social media in the US, many users contrasted Anirut's calm demeanor with the trigger-happy nature of some American police officers.
"If that was in America he would have been shot dead instantly, then handcuffed, shot again, sued, questioned, shot more and jailed for life," wrote Chris Tyrrell in a Facebook thread.
Another user, Stevee Jenkins, also wrote in the same thread, "If this had happened in the US that man would be dead, so nice to see a human being that relates and shows compassion to another human!"
However, some questioned whether Anirut needlessly put himself in danger.
"Sorry…. no hugs… and if there is one knife there could be two. Once the knife was seized… the subject would be cuffed and searched," wrote Cliffy Halaburda. "If this was a police academy and the candidate just all that… fail. It's too risky dealing with people in this state."
The officer said he acted within his tactical training.
"It depends on different situations. If a suspect was really threatening, we have a sniper for that," Anirut said. "But for this case, I could handle myself. It was just a knife … we had training about this."
The unnamed man was reportedly charged with carrying a weapon without permission, a misdemeanour that carries a 200 baht fine, though police waived the fee for him. Anirut said he also gave the man a guitar he had at the police station as promised.
He did not give police any contact information and requested a lift to Victory Monument, and that's the last Anirut saw of him.
"I tried to find the gas station he said he worked at, but I couldn't find it," the officer said.
Related stories: