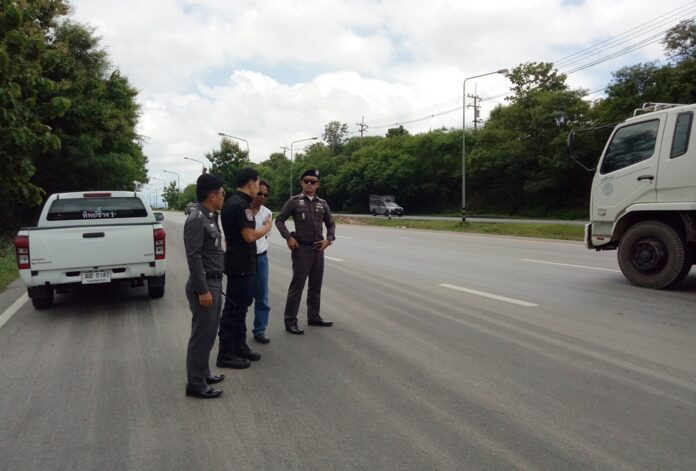 LAMPANG — An accident involving an 18-wheeler truck and a car prompted police in Lampang province to disband one of their traffic checkpoints.
Witnesses said the crash on Monday took place because the truck could not make a stop in time for the checkpoint, located on the downhill slope of the road that runs between Lampang and Prae. A local police chief said Friday they were considering a safer location for the checkpoint.
"Our commander has ordered us to remove the checkpoint for now," Krissada Pancharoen, head of Lampang City Police Station, said by phone. "We are to look for a safer location."
The truck, which was reportedly carrying 48 tonnes of building material, slammed into the back of a fortuner on Monday at the checkpoint. An onlooker filmed the aftermath of the crash and posted the video on social media to criticize the police.
"The driver couldn't brake in time," the unnamed man said in the video. "Who's going to be responsible?"
Col. Krissada said the truck's insurance had agreed to compensate the Fortuner driver.
He also maintained that the officers manning the checkpoint did nothing wrong, and blamed the truck driver for speeding.
"The checkpoint was set up in accordance with the laws," Krissada said. "[The driver] was driving at a speed that exceeds the legal limit. There were speed limit signs there, and there was a sign that a checkpoint was ahead."
Krissada added that officers responsible for the checkpoint will not face any legal action.
Police routinely set up road checkpoints nationwide to fine motorists who violate traffic laws.
But some of these checkpoints have come under criticism for allegedly being organized without regard to road safety. In one viral video from 2016, a driver almost hit a police officer who attempted to stop oncoming vehicles without any warning sign.