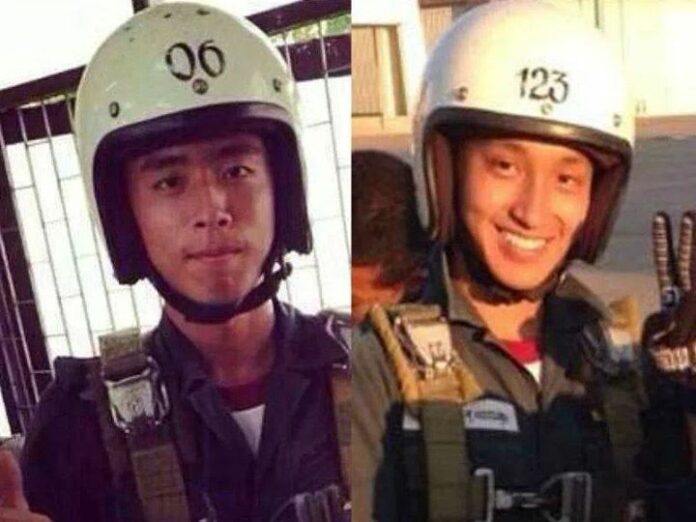 BANGKOK — A court Wednesday ordered an aviation firm to pay compensation over faulty parachute slings that led to the deaths of two police cadets three years ago.
Thai Aviation Industries Ltd., which repairs and supplies civilian and military aircraft, must pay 2.7 million baht to the family of one of the two dead cadets. A lawyer representing both victims' families said the damages were much lower than had been sought because the judges said the two trainees were partly to blame for their own deaths.
"What we are very displeased with is the court verdict said the deceased were also responsible for the incident by not pulling the backup chute," Ananchai Chaiyadech, who represents the family, said in an interview. "They said the deceased were trained, so they were also responsible for what happened."
Read: Corruption, Faulty Cable Blamed For Death of Police Parachutists
Ananchai said the the court should not expect the two victims, 19-year-old Nattawut Tirasuwansuk and 23-year-old Chayakorn Puttachaiyong, to have known what to do because they were trainees who had never jumped before.
"It was just matter of seconds. Some people may be able to take hold of the situation, some may not," the attorney said. "It was their first time, too. How could they possibly know they would have to pull [the backup chute]?"
Ananchai said Chayakorn's family had asked for 40 million baht in compensation. The company had already settled with Nattawut's family out of court and agreed to pay 2.5 million baht in damages.
Nattawut and Chayakorn were among eight police cadets who participated in the Mar. 31, 2014, training exercise over Phetchaburi province. Families of the cadets were present to watch from the ground.
The sling failed to snap open the cadets' canopies. While the six other trainees managed to open emergency parachutes and land unharmed, Nattawut and Chayakorn fell to their deaths, to the horror of those watching.
A police investigation later ruled the plane should have been equipped with a foreign-made 99,000 baht sling, but Thai Aviation Industries Ltd. instead supplied a 9,300 baht sling made by a local company and embezzled the rest of the funds.
Thai Airways, whose staff installed the faulty sling, was exonerated by the court, which said it could not have known the sling was substandard.
A separate criminal case against the company is underway, and no court date has been set more than three years after the accident.
Attorney Ananchai said the family will appeal today's ruling.
"They are not happy. This is not about money. It's about blaming their son," he said. "We will definitely contest it all the way to the Supreme Court."
Related stories:
Inquiry Over Faulty Parachutes That Killed 2 Cops Going Nowhere