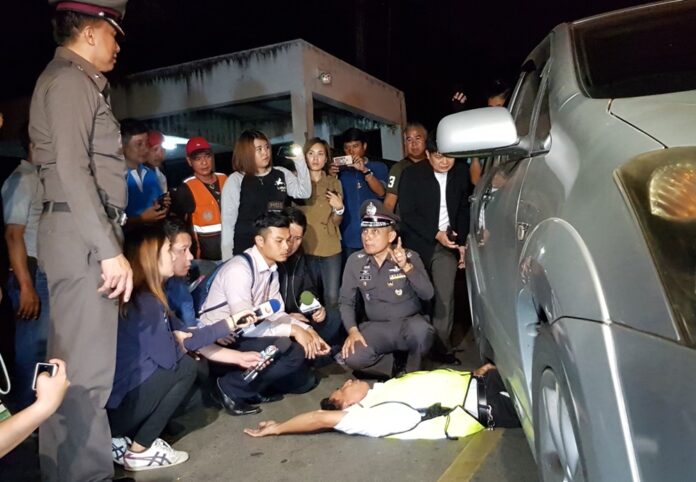 BANGKOK — A physician and senior health official accused of running over his office's security guard was slapped Wednesday with the most serious charge yet: attempted murder – which could yet become murder.
Police said evidence shows Yorn Chiranakhon was drunk when he fled the scene Friday night after running over 24-year-old Somchai Yarmdee in northern Bangkok. A police spokesman said the victim remained in a coma this afternoon, and that the charge against Yorn could escalate to first-degree murder if Somchai dies. Yorn has denied all charges.
"He cannot respond at all. We are praying that he will recover and speak again," Gen. Weerachai Songmetta said in a phone interview. "If he dies, we will summon the suspect to charge him with premeditated murder."
Premeditated murder is punishable by the death penalty, while attempted murder has a maximum penalty of 20 years in prison.
Yorn is accused of slamming his car into Somchai at the Ministry of Public Health headquarters on Friday night. Disturbing security camera footage shows Yorn pause for a moment after knocking Somchai down, only to then drive his car running over the guard's body.
After Yorn dragged the guard's body under his car for 26 meters, an eyewitness told reporters he got out of the car and tried to yank the body free until police officers arrived at the scene.
The witness, a motorcycle taxi driver who identified himself as Game, estimated that Yorn was driving at a high speed between 60kph and 70kph when the crash happened. He also said Yorn was "staggering" as if drunk when he finally stopped his car to try to free the body.
Police said 58-year-old Yorn also refused to take a sobriety test when he turned himself in later that night. He was automatically charged with drunk driving as per a traffic law stipulation that presumes those who refuse sobriety tests were driving under the influence.
While Yorn admitted to police on Tuesday he was the motorist in the video, he maintained he thought he had struck and broke through a gate. He denied all charges pressed against him, including attempted murder, DUI and reckless driving. The physician was granted bail on the same day, having posted a bond money of 500,000 baht.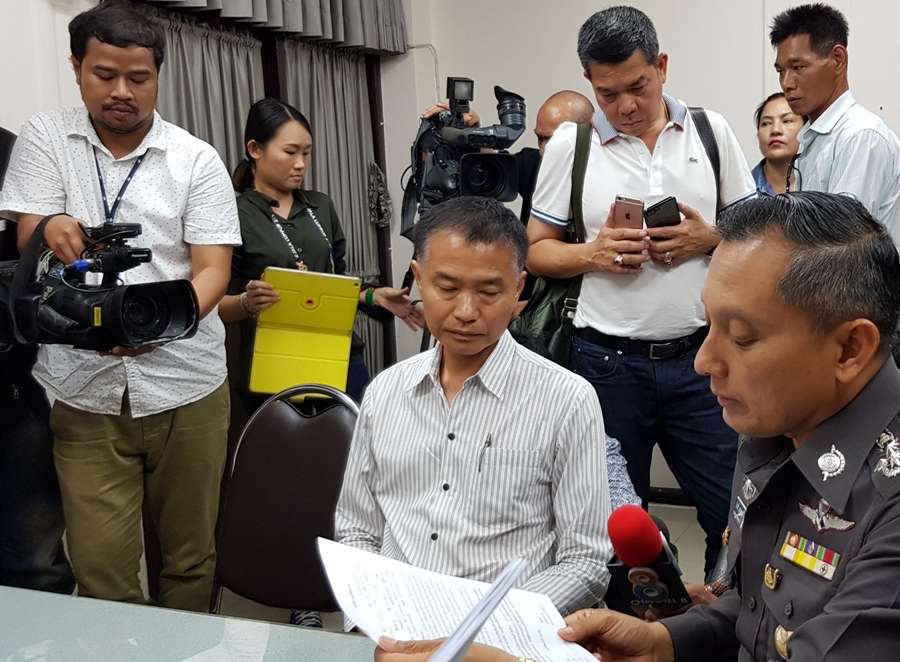 Asked why Yorn's actions amounted to attempted murder, spokesman Weerachai said the suspect intentionally ran over Somchai in the aftermath of the crash.
"He stopped the car for 15 seconds then he continued driving over the injured person," Weerachai said. "As he was driving over the body, there was intent. He was fully aware it could endanger a life."
As for Yorn's insistence that he was not aware he hit a person, Weerachai said, "The suspect has the right to testify to whatever he wishes."
The case only drew widespread attention after footage of the incident became viral on social media.
Weerachai also said there are "other forms of evidence" that Yorn was intoxicated at the time of the accident, despite the lack of sobriety testing.