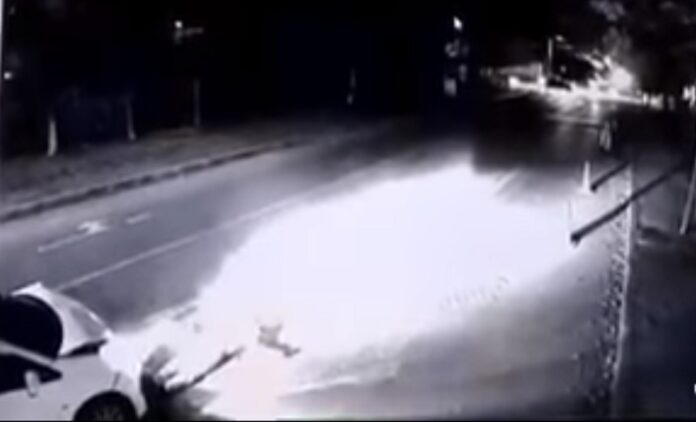 BANGKOK — A physician and senior health official has been accused of hitting a security guard with his vehicle and fleeing the scene while drunk, police said Tuesday.
Yorn Jiranakorn, an inspector at the Public Health Ministry, was identified in security camera footage as the motorist who crashed his car into the guard, Somchai Yarmdee, on Friday night. The accident left the victim in ICU with what doctors said is brain damage. Yorn refused a sobriety test when he turned himself in later that night, an offense that automatically counts as drunk driving under Thai law.
"We have summoned him to acknowledge the charge," Nonthaburi City Police Station chief Pannapat Dejchotepisit said. "We are in the process of pressing charges against him."

Reached for comment, Yorn said he had not been charged as of Tuesday morning. He declined to comment further.
Friday night's incident took place at the health ministry's suburban headquarters in northern Bangkok. It  gained widespread attention after a graphic video of the incident went viral on social media.
The video shows a white car hitting 22-year-old Somchai and knocking him to the ground. Although the impact is not seen, the vehicle has sustained significant front-end damage. The driver stops the car for a moment before driving the car atop the guard's body. He eventually continues to drive over Somchai, dragging him along, leaving smears of his blood all over the roadway.
Police said the guard was dragged under the vehicle for about 20 meters before coming loose.
Accompanied by other health ministry officials, Yorn visited Somchai and his family in the ICU on Monday. In an interview with reporters after the visit, the physician apologized for what happened and said he is cooperating with police. He also claimed he did not know he ran over a human being; Yorn said he thought he hit and brought down a gate.
At a Monday evening news conference, before police said they would charge him, Yorm paused before answering why he hadn't stopped his vehicle to see what happened.
"Why did I not stop?" he said. "This, this, I cannot say. I wasn't accelerating my car. I had no intent to flee."
Col. Pannapat said police will charge the 54 year old with fatal reckless driving and driving under the influence.
Hit-and-run incidents and subsequent sobriety test refusals are recurring problems with cases involve high-profile figures. Although a newly amended traffic law prescribed a harsher jail term in DUI cases – up to six years for causing grievous injury and 10 years for fatalities – critics say lax enforcement allows guilty parties to get off with relatively mild sentences.
For instance, an actress who killed a policeman in a 2015 crash and refused a sobriety test was given a suspended jail sentence. Earlier this year, the court dismissed a DUI count against a businessman who refused to be tested after killing two graduate students in a fiery car crash.