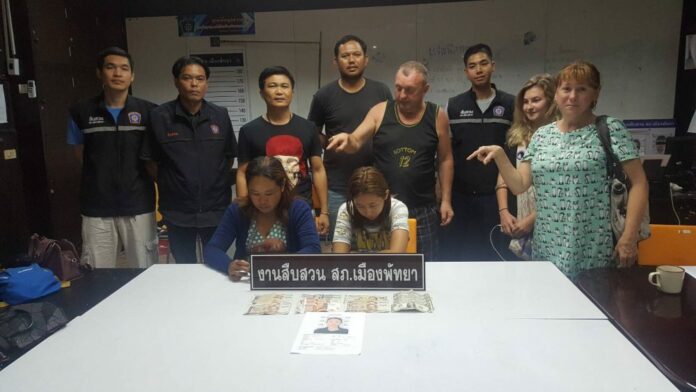 PATTAYA — Police were looking for a third hotel maid after two others were arrested for allegedly stealing currency worth about 35,000 baht from a Russian family's room.
Suthirak Toloy, 41, and Sudarat Padjanteuk, 25, were arrested Monday for allegedly pilfering baht, rubles and dollars from the room at the Wongamat Privacy Resort. Police said they confiscated 12,000 baht, RUB25,000 and USD200 dollars from the two women and were looking for a third suspect, 31-year-old Nattamon Yingkumhaeng.
"From our investigation we found stolen money of various currencies amounting to around 35,000 baht," police Maj. Gen. Nanthachart Suphonmongkol said Wednesday of the Sunday robbery.
The victim, Russian Alexander Mamichev, 54, had kept the money under lock and key in the room. He reported the theft to police, who investigated CCTV tapes and found that while Mamichev took his family out to the beach, three maids used their keys to unlock and enter the room.
At the Pattaya City Police Station on Monday, Suthirak and Sudarat cried and said that they stole the cash out of necessity for their families. The Mamichevs handed Thai police a bouquet of flowers in thanks. "Thank you very much. We love Pattaya," said Mamichev's wife as she waied to police.
"We all want to take care of the security of foreign tourists. Please report to police if you see anything, 24 hours a day. I'm competing with 7-Eleven," Nanthachart said.