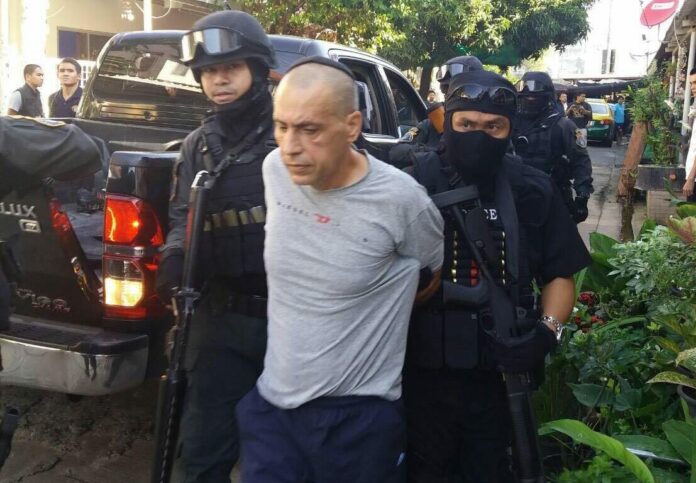 Update: Israeli Embassy on Monday declined to comment on the verdict. 
BANGKOK — An Israeli man has been sentenced to die for the murder of a fellow Israeli last year, police said Saturday.
Shimon Sakira Bitton, 50, was convicted and sentenced to die one year after he was arrested on suspicion of killing Eliyahu Cohen, a 63-year-old Israeli policeman, and hiding his body under poured concrete. The court convicted and sentenced him on the same day, according to the officer in charge of the investigation.
"It's up to defendant whether to appeal the ruling," Col. Jirapob Puridej said Saturday. Defendants have 30 days to appeal their convictions.
Read: Parents of Missing Woman Linked to Israeli Murder Suspect Seek Help
He continued, "I am happy to have successfully brought the criminal to justice. We did everything in accordance with the facts."
The Israeli Embassy has not made a statement and could not be reached Saturday for comment.
Police said Bitton murdered Cohen with the aid of his 17-year-old son in a fit of jealous rage. They began investigating Bitton after Cohen's relatives told the Israeli Embassy he went missing.
Investigators also linked him to a previous murder and concealed body from 1997. He served jail time before being booted out of the country, only to return years later under a new name. The suspense over Cohen's murder escalated when family of Bitton's Thai wife also reported her as missing.
Although Thailand retains death penalty in serious crimes like first degree murders, an execution has not been carried out since 2009.
A juvenile court verdict in the trial of Bitton's son is yet to be out.
Col. Jirapob said Bitton's missing wife, Nantiya Saengurai, is still unaccounted for. She remains in the missing persons database and could not be ruled as deceased by the court for lack of evidence.
"There is no evidence anyone has killed her," the colonel said. "For the court to declare someone dead, there must be some evidence, or a body. But in her case, there's no trace of her at all. Not even one witness."
Related stories:
Murder Suspect's Mistress Told to Say His Wife Was Dead
More Bodies in Israeli Murder Suspect's Past