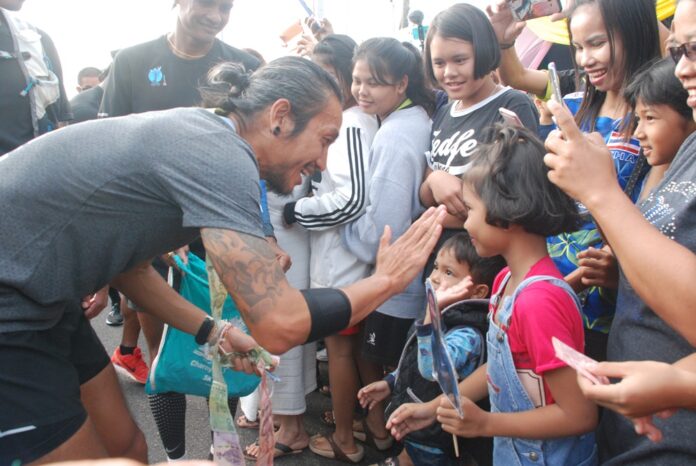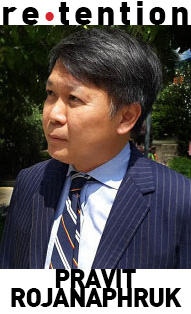 Rocker-turned-philanthropic fund raiser Toon Bodyslam will finally arrive in Bangkok on foot tomorrow, Sunday, after a month of running.
Toon has covered a distance of 1,000 kilometers so far to raise over 355 million baht for 11 public hospitals.
There is no doubt Toon, 38, will raise hundreds more millions as he continues to jock his way toward the northern tip of Thailand as the rocker's running has become a national phenomena.
My concern for Toon, whose real name is Artiwara Kongmalai, is simple.
I am worried for his knees, specifically his kneecaps, after two injury breaks so far. It's also an enigma as to why Toon has to continue to run, instead of doing something else, in a bid to raise more funds for needy hospitals.
Could he not just hold concerts instead? What about having other high-profile public figures join a relay run for the rest of the route?
Toon covers a distance of some 50 kilometers to 60 kilometers per day on average. He has to clock in another 1,000-plus to reach the northernmost reaches of Thailand. It will require roughly another month of running, and he is literally risking his health, or his kneecaps, as a result.
Humans basically evolve from apes and are not physically engineered to walk straight on two feet for such a long period, not to mention run.
While it seems Toon really likes running, he risks permanently damage as a result. Why can't he just walk then?
Perhaps it's about sacrifice. If you don't sweat or suffer severely, it seems people won't be moved to donate.
I am reminded of Jesus Christ dying on the cross for all Christians. Or the Buddha starving himself in an attempt to attain enlightenment.
As they say in body-building parlance: "No pain, no gain.". It may be added that no sacrifice, no sympathy; no running no money, at least in this case.
Supporters and fans of Toon may be yearning for a hero, and indeed Toon deserves to be called one, even though we may argue why the illegitimate military government cannot tighten their belts a bit and buy fewer weapons and more medical equipment instead so Toon can take a rest.
One Blackhawk helicopter costs around 700 million baht, roughly the same sum of money Toon expects to raise.
Yearning for a hero, no public figure has so far urged Toon to stop running and ruining his knees. This despite Toon having to already take two breaks to rest from injuries last month.
A hero must be extraordinary, superhuman even. A hero it seems, cannot be heroic if he or she doesn't take high risk and make unfathomable sacrifice. If that bad day eventually comes, public hospitals will surely compete to offer Toon free knee arthroplasty – a surgery to replace the weight-bearing surfaces of the knee joint in order to relieve pain or disability.
I feel sorry for Toon. People in this society are suckers for heros, and Toon has been sucked into becoming one. Now he can't stop running. He doesn't need to continue to run to continue to raise money. He can continue to raise money without running.
The truth is, Toon has done more than enough. Others: rockers, movie stars, public figures, sports stars, and Buddha forbid, even junta leaders, should beg him to stop. It's time others, people including dictator Gen. Prayuth Chan-ocha, to run on his behalf, covering say 10 kilometers each to make this whole philanthropic campaign more inclusive and participatory.
It would be a needless shame if Toon ends up ruining his kneecaps.
No feel-good campaign should be reckless. It's time people take up Toon's baton before it's too late. It's also time to ask why the military government, while able to shop for more military toys from China and the United States in preparation for a war that is not even on the horizon, could not afford to properly equip state hospitals with life-saving medical hardware.
It's time for Toon to run less, and it's time for people to demand more from the military regime.