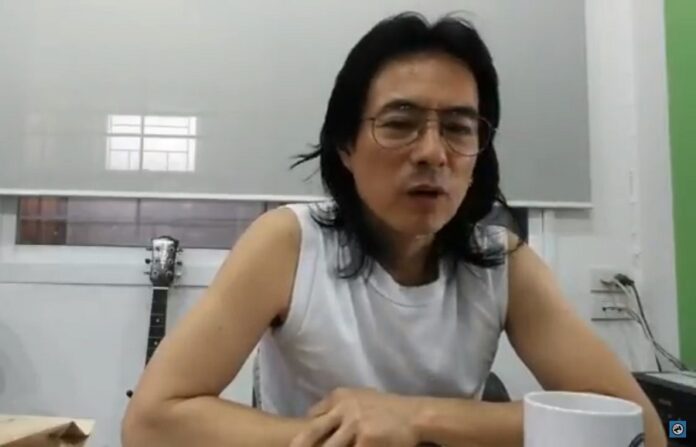 Update: The junta released Natchapol Supattana from custody on Saturday evening. 
BANGKOK  — A social media personality known for his fiery criticism of the authorities was detained Saturday morning on order of the ruling junta after he suggested the government's popularity is plummeting.
Natchapol Supattana, aka Mark Pitbull, was sent to a special military prison for "attitude adjustment" following comments he made about the government, according to a junta spokesman, who also warned that others making similar critiques on Facebook and YouTube could share the same fate.
"Some of his information was not based on facts … and appeared to be inciting unrest," spokesman Piyapong Klinpan said in an interview. "So national security officers invited him for discussion and attitude adjustment."
In a video posted to his Facebook page, which has more than 500,000 followers, soldiers are seen arriving at Natchapol's residence at about 8am. Their leader introduces himself as a representative of the junta, and informs him that they are to take him to 11th Army Circle, a base converted into prison for those detained in national security matters.
"Today we want to talk to you about your behavior on YouTube," an officer told him. "We will discuss the details later."
Col. Piyapong said Natchapol has not been charged so far, and the military plan to release him by day's end. However, he does not rule out possible prosecution.
"If his words affected or damaged others, those affected might press charges in the future," the spokesman said.
Natchapol routinely gives commentary on law enforcement and current events. His rhetoric was so fervent that it earned him a nickname "Pitbull" among his supporters. He recently made headlines when he launched a fundraising effort to pay for the legal costs of a teacher convicted of vehicular manslaughter who wanted her ruling overturned.
Although the junta spokesman did not specify which video led to today's detention, Natchapol posted an hour-long video last night in which he criticized Monday's crackdown on environmental protests in the south.
"I believe the government is in a downturn, because they keep making enemies. Friends who used to love them are now parting ways," Natchapol said.
He went to on to say "the people are the most powerful" group, with a pledge to build a network of 100,000 citizen activists to oppose corruption and other social ills.  
Since seizing power in a May 2014 coup, the junta has outlawed all protests and public expression against its regime. Those violating the ban were often sent to "attitude adjustment" sessions in military bases or even prosecuted in the courts.
Spokesman Piyapong said others who make "inciting" remarks like Natchapol could be next in line.
"If their behavior matches the same nature, we will intercept it," Piyapong said. "When someone criticizes or makes reference to anyone, they must be responsible for what they say."