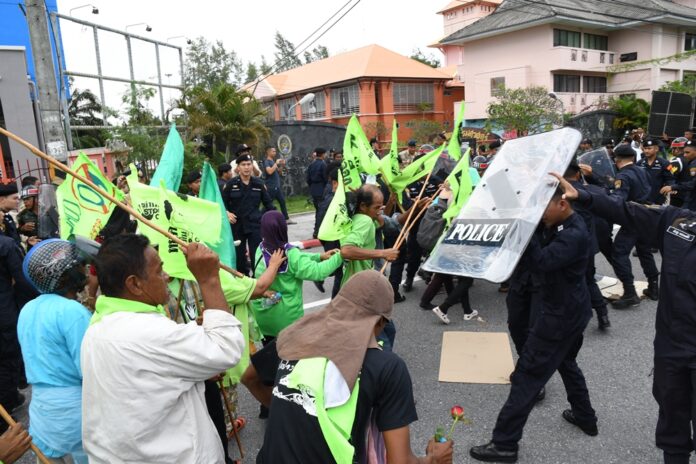 SONGKHLA — Sixteen protesters arrested while marching to submit a petition to junta chairman Gen. Prayuth Chan-ocha in the Deep South remained in custody Tuesday morning and face six months in prison.
The demonstrators, who oppose the military government's plan to build a coal power plant there in their hometown, were detained after scuffling with riot police in Songkhla province, where Gen. Prayuth was touring. Police said they were charged with obstructing traffic and using weapons in the skirmishes. More serious charges will soon follow, police said.
"We arrested them for offenses committed at the scene," regional police commander Ronnaslip Phusara said in an interview. "We had already banned them from gathering. We have also asked for a court order, and the court also ordered them not to assemble."
Asked what constitutes as weapons, Maj. Gen. Ronnasilp replied the demonstrators "used flagpoles to strike at police, so they counted as weapons."
In coming days, the 16 will be charged with violating a law on public assemblies, the major general said. They face up to six months in prison if found guilty.
The protesters marched from the Thepha district and demanded to hand their petition to the prime minister, who was visiting the nearby province of Pattani yesterday. The group said they fear damage to their community's health and environment if the government goes ahead with building the coal plant in their town.
Police and military blocked the road to prevent them from getting close to Prayuth. A clash broke out at 3pm and ended in 16 arrests – including that of protest leader Ekkachai Issarata. Media reports said at least three demonstrators were injured.
Civil rights groups immediately criticized police for their handling of the protest. A coalition of 36 Isaan-based civil groups said the crackdown invalidate the government's claims that it has made human rights a priority.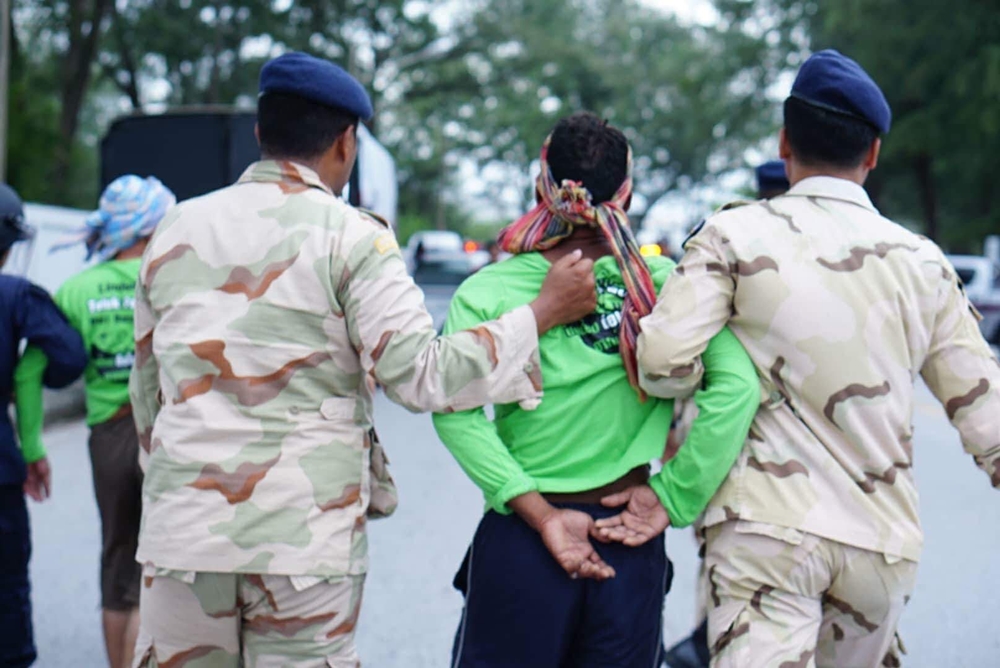 "We condemn the government for using force to crack down on our Thepha brethren without upholding human rights principles. This is a grave evil," the coalition said in a statement, which also demanded police to free all protesters unconditionally.
The 16 protesters are being held at the Songkhla Police Station. Investigators are planning to take them to court for a custody hearing today, Ronnasilp said.
He also disputed allegations his officers used excessive force.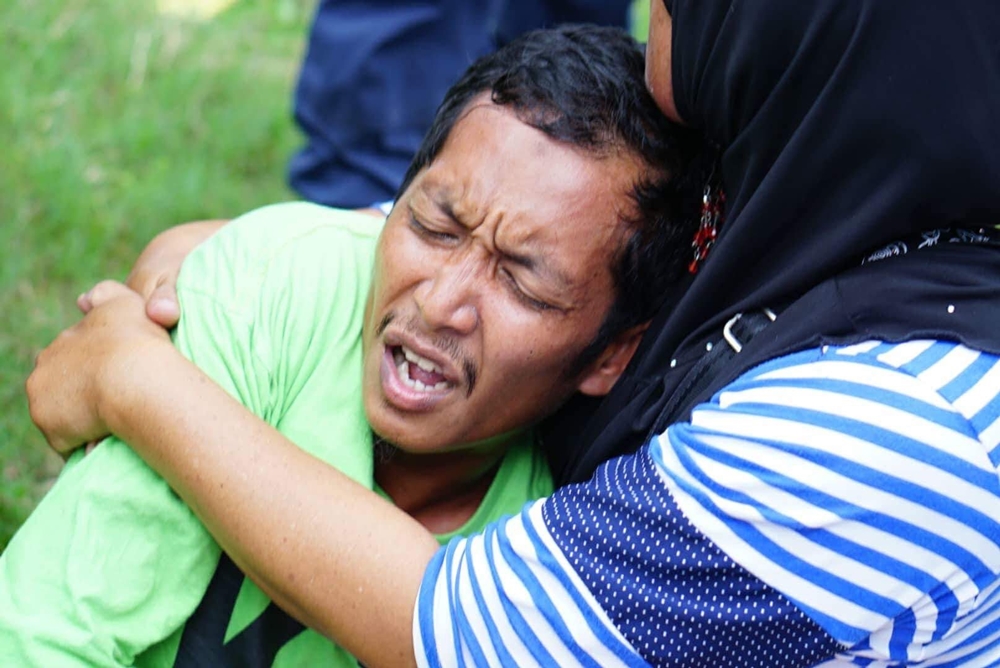 "We didn't use any violence," Ronnasilp said. "We already asked them not to block traffic, and only assemble in the area we arranged for them. Yet they assaulted the officers."
Activist groups maintained the demonstration was peaceful until police moved to disperse the protesters.
An ambitious plan to expand coal-fired plants was announced not long after the junta seized power in 2014. It met resistance from local groups, but opposition to government plans has been stifled by the ban on political gatherings.
Meeting People, Facing Public
Gen. Prayuth, who in recent months has been on the road promoting his agenda and leadership, began a tour of the south Monday with his newly reorganized cabinet.
The junta chief was meeting representatives of a fishing community when the marchers set out to meet him. During the meeting, Prayuth interrupted a fisherman venting his grievances to shout him down.
"Don't raise your voice to me!" Prayuth yelled into the microphone, startling those around him. "Talk nicely. I am willing to listen to your problems – don't pressure the government."
He then led his entourage away to resume their tour.
When a reporter asked the general yesterday about the crackdown, Prayuth said it was solely a police matter.
"It was up to the police to consider," Prayuth said from the hotel where he was staying. "There were already warnings. They cannot hurt the police."
Turning a drink given to him in the hotel lobby, he raised a toast to the reporters.
"I'm so happy here. I get to meet local people. I don't want to return to Bangkok," Prayuth called out to the press.
Clarification: Prayuth's remark has been translated from "Don't argue with me" to "Don't raise your voice to me," after closer review of a recording.
Related stories:
Krabi Coal Protesters Vow Return if Gov't Breaks Promise
Anti-Coal Activists Return to Krabi Confident of Victory
Coal Plant Protest Leaders Arrested
Gov't Gives Green Light to Krabi Coal Plant, Activists Vow Resistance (Photos)