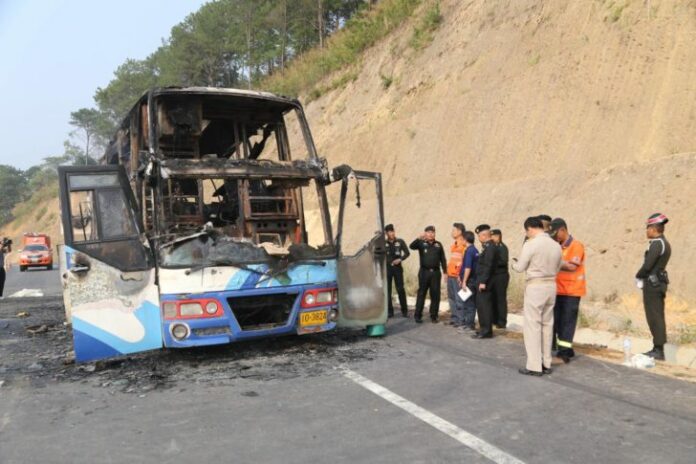 TAK — The bus in which 20 Burmese migrant workers died in a fire yesterday morning had neither been inspected nor authorized to operate, a road safety expert said Saturday.
Police have yet to file charges against anyone or determine a cause for the blaze, which broke out Friday on a highway in Tak province. Road Safety Thailand Foundation chairman Thanaphong Jinvong said the bus was only authorized to operate within Nakhon Sawan province, yet it was chartered to transport Burmese workers to an industrial estate 500 kilometers away.
"It's an unauthorized use of the bus," Jinvong said in an interview. "Regular buses can be chartered, but they need permission to do so first. Why? Because they have to be inspected first."
Because the bus – chartered by migrant worker contractor Boom Boom Ltd. – was not inspected, it was unclear if its emergency exit and fire extinguishers were functional when the accident took place, Jinvong said.
Police said the bus – carrying 49 people – was bound for Navanakorn Industrial Estate north of Bangkok. The victims were mostly in their 20s and early 30s.
Bus driver Banthoon Vithoon, who escaped unharmed, said he smelled cigarette smoke shortly before the vehicle caught fire. Police on Saturday told reporters the investigation for the cause of the fire had not yet concluded.
Thanaphong said regulations for long haul buses dictate two drivers operating in two shifts are needed for a route over 400 kilometers. Banthoon was the only driver present in the chartered bus.
The incident came just weeks before millions are set to take to the roads during the Thai New Year vacation, which sees a high number of accidents.
Thanaphong said an increase in road travel during the holidays would mean more buses being chartered to operate in existing bus routes. He urged the government to strictly enforce safety regulations such as equipment inspection, adequate number of drivers and mandatory rest times on these chartered buses.