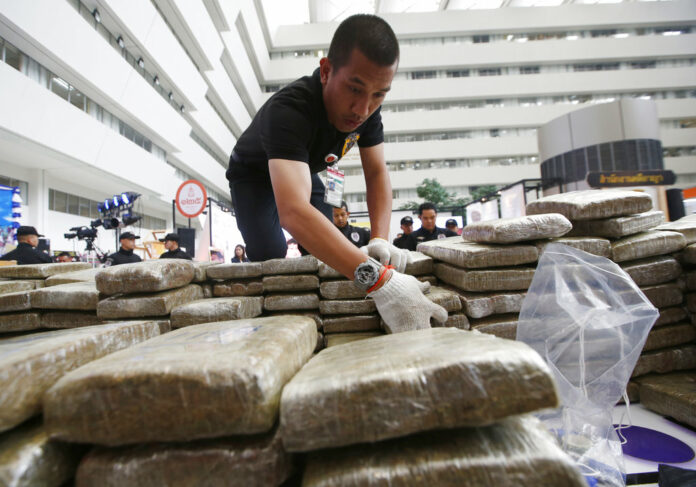 BANGKOK — Police announced Tuesday that they confiscated an estimated USD$54 million worth of methamphetamine in one of their biggest-ever drug seizures and arrested 11 people in recent days as illegal drug cases surge in the country.
They said the seizure took place Monday night in the northern province of Chiang Rai on a road by the Mekong River, the border with Laos. Soldiers and police discovered 9.4 million methamphetamine pills and 788 kilograms (1,737 pounds) of crystal methamphetamine in a pickup truck, apparently abandoned by its driver.
The seizure came less than a week after another major haul by the authorities of 700 kilograms (1,543 pounds) of crystal methamphetamine on March 28.
It is not unusual for there to be clusters of drug seizures, as suspects and evidence seized in arrests provide leads to other cases.
Methamphetamine is often smuggled from Laos, and commonly transshipped from Myanmar, where it is produced. Its main market is Thailand, but it is also shipped to Thailand's southern neighbor, Malaysia.
Seizures of millions of methamphetamine pills are not rare in Thailand, where it is a preferred drug, while crystal methamphetamine is not as commonly found.
Police said at a Tuesday news conference that there has been a recent surge in drug cases, with amphetamine pills, marijuana, ketamine and ice seized in 11 unconnected cases since March 25. Drugs displayed Tuesday at the Narcotics Suppression Division outside Bangkok were spread along a row of tables about 15 meters (50 feet) long.
They included nearly 1.8 million methamphetamine pills, 1,380 kilograms (3,036 pounds) of marijuana, and smaller quantities of cocaine, ecstasy pills, ketamine and other drugs.
On Monday, officers arrested a Thai woman returning from Ethiopia with 50 containers of cocaine concealed inside her body. The 11 recent arrests also included two Malaysians and a Tanzanian.