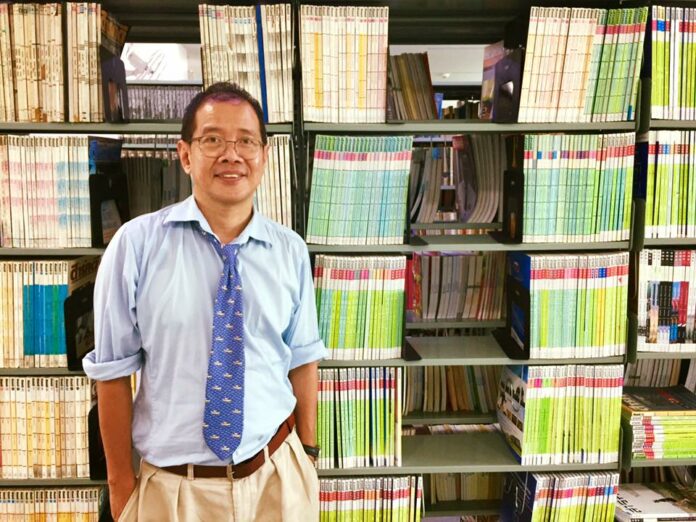 BANGKOK — Soldiers acting on a junta order pressured a news agency director to quit because of his criticism of the regime, a source said Tuesday.
PPTV, known for persistent coverage about alleged corruption in the military regime, was given a choice: remove Vanchai Tantivitayapitak or be shut down. The company chose to dismiss the director, a source familiar with the decision said. Both a junta representative and a member of the station's editorial staff declined to confirm or deny the account.
"The station was pressured to make that choice. It's understandable, because they have to do a lot of businesses," the source said on condition of anonymity, citing fear of reprisal by the junta.
Vanchai declined to be interviewed. However, he alluded to the alleged incident in an online post in which he said the military monitors media personalities' critical remarks and take action when they cross certain boundaries.
"When someone collects enough points, security officers or uniformed personnel will visit them," Vanchai wrote Monday night. "Some only get frequent visits, but some are also pressured and forced to resign."
PPTV editor Satien Viriyapanpongsa said he did not know why Vanchai resigned and declined to say whether any pressure was brought to bear.
"The puu yai might explain later. I don't know. I'm waiting to hear it, too," Satien said before refusing to comment further.
Media reports say Vanchai's last day was Saturday. Under his direction, PPTV published a series of reports on deputy junta chairman Prawit Wongsuwan's undeclared luxury watches, corruption allegations involving the government and other social issues.
Since the scandal about Prawit's 30-million baht watch collection broke out, PPTV has run near daily follow-up reports, with the latest article on the subject published on Friday.
The channel belongs to the same conglomerate that owns Bangkok Airways and the Bangkok Dusit Medical Services, the largest private hospital chain.
Neither confirming nor denying that the military played a role in Vanchai's departure, junta spokesman Winthai Suvaree said he did not know of any soldiers being ordered to force Vanchai to quit. He said the accusation is "a personal opinion that cannot be verified by the authorities."
Asked whether the military conducts surveillance on the press, Col. Winthai said the military only has a team that monitors media reports about the government to spot inaccuracies.
"Their goal is to see if what the media presents is correct," the spokesman said. "If there's any misunderstanding or inaccuracy that involves the authorities, we provide them with additional information."
Confronted with the allegation of Vanchai pressured to resign because of the watch scandal, Gen. Prawit on Tuesday curtly replied, "No such thing."
Watchdog groups say media freedom has plunged since the military seized power in 2014. Since then, the authorities have warned the press to avoid criticism, prosecuted a number of reporters and shut down TV stations for their critical coverage.
Related stories:
Police Arrest Reporter Investigating Former Police Chief
Told to Tone it Down, Media Will Shoulder Losses For Royal Funeral