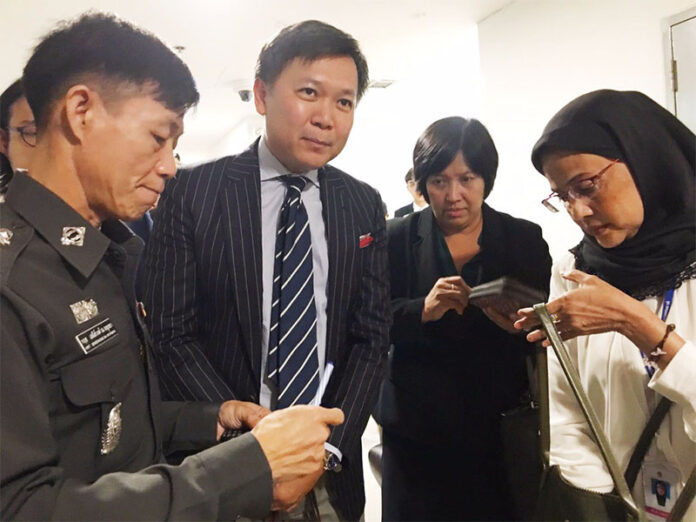 BANGKOK — A reporter accused of sedition met with police Tuesday to hear the details of the charges against him.
Pravit Rojanaphruk, a senior staff writer at Khaosod English, was told by police last week that he was being charged for criticizing the junta in five Facebook posts. Police refused to reveal specifics until he met with them today at the Technology Crime Suppression Division in Bangkok.
Speaking to reporters before going into a meeting with cyber crime police, 49-year-old Pravit vowed to continue to speak out against the junta, known formally as National Council for Peace and Order, or NCPO.
"I'm not surprised by the charge," Pravit said. "As we all know, we are living under the NCPO regime. Anyone who criticizes them must pay the price."
Read: 3 Junta Critics Charged With Sedition Over Facebook Posts
Reporters were not allowed into the meeting. After four hours of discussion, Pravit described the charges laid against him during a break.
He said police told him he would be tried in two separate cases. One will be for two Facebook posts in February 2016 that were critical of the draft constitution the regime was trying to win public support for. The second case involves five Facebook posts in June and July which police said were critical of junta leader Prayuth Chan-ocha and his military government.
Pravit will be tried for both sedition and violating the Computer Crime Act in both cases. If found guilty in both he faces up to 14 years in prison.
He was accompanied today by Yaowalak Anuphan, the head of Thai Lawyers for Human Rights.
A police source said that a representative from the military filed complaint against Pravit late last month on July 28. The source, who was not authorized to speak on the record to the media, said the charges under the Computer Crime Act would rely on its provisions covering online defamation.
A former columnist at The Nation newspaper for more than 20 years, Pravit is known for his direct and prolific criticism of the junta through his opinion pieces and social media platforms. He was detained twice on the junta's order for "attitude adjustment," once in 2014 and again in 2015.
Before the meeting, a senior police officer declined to tell reporters who alerted police to take action against Pravit and which Facebook posts were identified as objectionable.
"We received a complaint, so we had to take action, per our duty," Col. Krit Seneewong na Ayutthaya told reporters.
Sedition carries a maximum penalty of seven years in prison.
Kingsley Abbott, who represents a coalition of lawyers promoting the rule of law, called for an immediate end to the "legal harassment" against Pravit.
"The monitoring of social media to identify 'prohibited speech' … is part of a concerning regional trend to curb free expression," said Abbott of the International Commission of Jurists in a statement provided to reporters.
Last month, Pravit was named as a recipient of a press freedom award from the New York-based Committee to Protect Journalists. He was to travel to receive his award in November.
Related stories:
3 Junta Critics Charged With Sedition Over Facebook Posts